Derby resident Lisa O'Hair spent a bit of a recent afternoon examining concepts for the city's future at the Vision Derby 2040 Design Studios event.
She said it was time well spent and got to make a point of wanting to make the city a more environmentally friendly one.
"We love Derby but it's not that 'green,'" she said.
O'Hair said she and her family, who have lived here for 4-1/2 years, would like to see more emphasis on the environment, including opening up space for community gardens and additional stress on recycling.
O'Hair, a young mother of four young boys, also wants to see more trees and said "going green" is a vital attraction for people of her generation.
"It's a big issue for us," she said.
There were four sessions of the Design Studios at The Venue in Central Park.
The come-and-go sessions were set up for people such as O'Hair to visit, take in information, ask questions of planning and city officials and make their input known for Derby's future.
"It's really informal," said Charlie Cowell, an urban planner with the Omaha-based firm of RDG Planning and Design, which is handling the process.
The sessions were about creating concepts and as people come in, getting their reactions to them.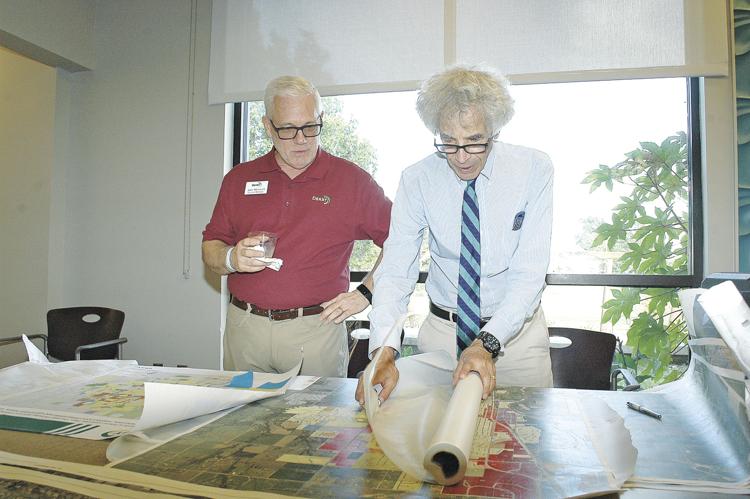 The process creates a road map to guide future land use, transportation, housing, parks, streets and other public infrastructure, said Dan Squires, Derby's Director of Planning and Engineering. It will consider the challenges and opportunities citizens can expect to face during the next 20 years.
Mixed-use development
The goals are to continue to be a community of choice and to retain a small-town culture of patriotism, community pride, and neighborly help, he said.
The RDG team, which was in Derby for three days, is about at the halfway point in its planning process, and is starting to put concepts down on paper. It also met with the 2040 steering committee, and will be back again in October.
There will be a break in the process and then the team will be back in early 2020 to wrap up the process, which includes the city's walkability plan.
One aspect that continues to float to the surface is how to increase mixed-use development in Derby.
That means blending housing and commercial enterprises in a compatible manner. It's a nationwide trend, Cowell said, and something that many young people are looking for. It also benefits senior citizens who may have transportation challenges and could put them within easy walking distance of a grocery store or medical services.
It would take changes in the city's zoning laws, but it's all possible to implement, he said.
"That's something we can propose," he said.
Another attendee, Scott Knebel, said he was simply interested to see where officials were in the process. He's taking an open-minded approach to the city's future, but did add that having a plan in place is necessary.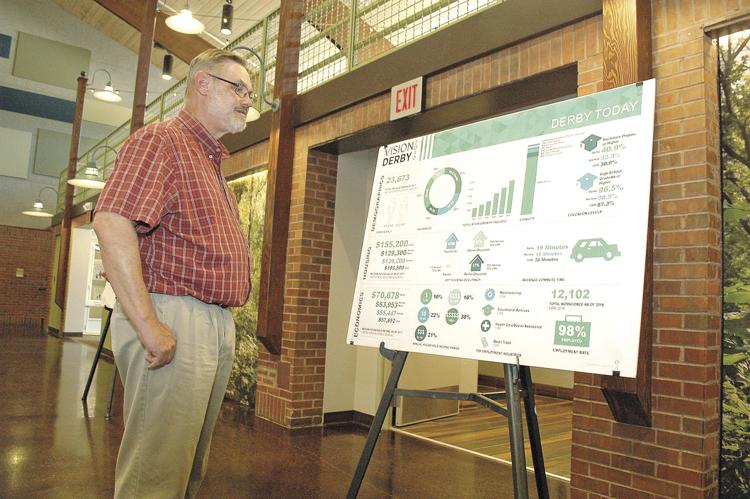 Ideas coming from residents
"They've needed to do this for a while," Knebel said.
Mayor Randy White, who also stopped by the first session, echoed that sentiment.
"It's absolutely important to have it [a plan]," he said. "How do you know where you're going if you don't have direction? This just makes sense."
Without a plan, the city can get to a position where it boxes itself in and is rudderless, he said.
White also emphasized the need for citizen input and action from the grassroots up.
"The best ideas are coming from our citizens," he said. "We will pick up those golden nuggets and listen to the people."
Even second graders are interested in civic matters.
"They ask me how we fix sidewalks because they walk on them," he said.
Of course, not everything can be done on a wish list as there's a budget to work with, but White added that it's the city's job to work with residents on overall priorities.
Cowell said he was pleased to get comments from the public and the emphasis is to make the plan as transparent as possible.
"That's the whole idea," he said.