With their sights set on making better use of existing space, city officials are seeking remodeling of the former Fire Station 1 next to the police station on Baltimore and the current Fire Station 82 on Rock Road.
To make that happen, at its Nov. 26 meeting, the City Council approved a contract with WDM Architects for $58,050 for architectural and engineering design services for renovation of the two stations.
There were two proposals received: the one from WDM and another from Agora Architecture for $87,750.
Under the proposal, Station 1 is to be repurposed for use by the Police Department, which has long been the plan.
About half the former fire station would be for police evidence and records storage with offices for two evidence personnel. The other half will be for vehicle garaging and maintenance, including a small space for physical training.
Currently, the bays of the station are open and are being used for vehicle storage.
That station is no longer needed by the fire department as a new station opened this past summer at the corner of Madison and Woodlawn.
For Station 82, the plan is to renovate it to "better comply with current health and safety guidelines for fire stations."
The plan calls to re-purpose the former chief's office and adjacent spaces to provide storage for protective equipment and laundry equipment.
Station 82 will have a reception space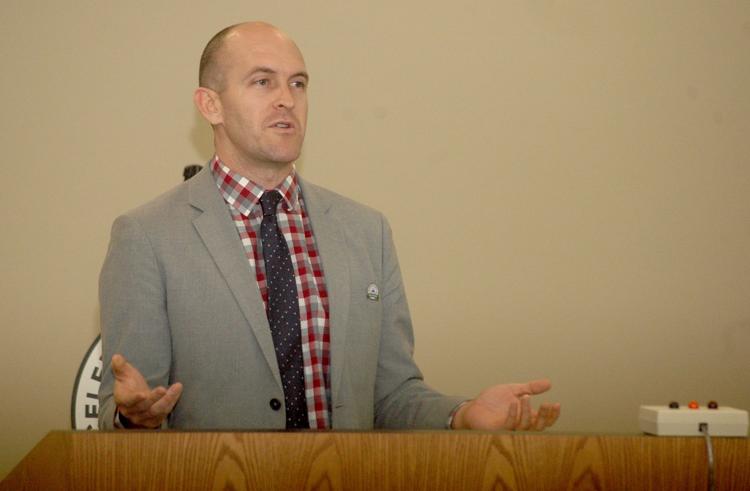 The exact layout will come out of the plan, said Deputy City Manager Kiel Mangus, who presented the projects to the council.
One thing that is needed at Station 82 is some sort of reception area, which the new Station 81 has. It would be a space for the public to come into the station when they have an inquiry or need blood pressure checks.
"There needs to be a place where they can take questions from the public," he said.
Former Fire Chief Brad Smith said there were times people walked in saying they had a medical emergency and asked for help and there was no greeting area for that purpose.
Mangus and Director of Operations Ted Austin, along with members of the fire and police departments, examined both proposals.
The committee recommended WDM Architects based on its fire station and police evidence storage experience.
Other reasons were their stated approach to the project, the fee and schedule and availability of team members. They also have similar experience.
The design will begin now and should take about three months. Then bids for construction will occur.
"We don't know what the construction schedule will be yet until design is completed since construction schedule will be dictated by the final design," Mangus said.
The money is available as the 2020 Capital Improvement Plan provides $715,000 from the CIP Reserve Fund for the project. That includes design and construction costs for both sites.