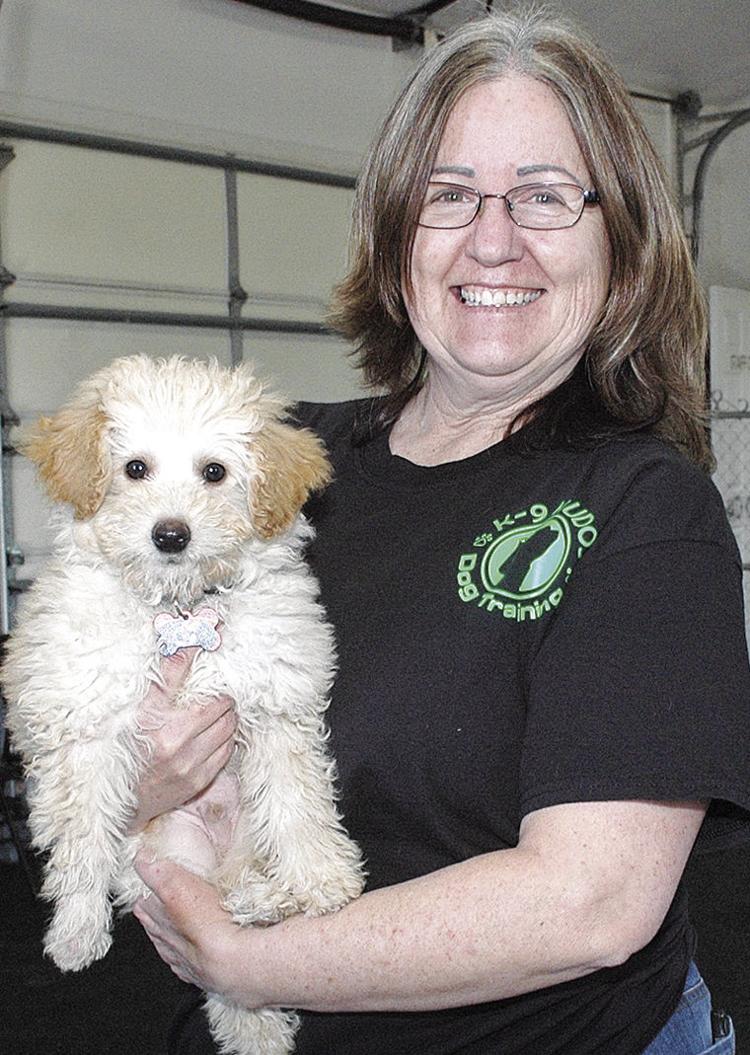 Doreen Hardiman has turned her longtime love of all things canine into a full-time business. Hardiman has opened K-9 Kudos, a multifaceted dog business on her property at 9025 E. 42nd Street St.
She's a professional dog trainer who offers private sessions in her facility or at a client's home. She also is starting group classes that train puppies in what she called life skills, along with training adult dogs of all ages.
Having dog owners get an insight into how to better manage their canine charges gives her just as much satisfaction, said Hardiman, who has three dogs herself.
"Honestly, I love training the people to train their dogs," she said. "There is so much people don't know."
Hardiman, who has undertaken formal dog-training studies at the Animal Behavior College and the Academy for Dog Trainers, demonstrated some of her skills recently to a visitor, showing how a dog reacts quickly to certain sounds.
K-9 Kudos also has puppy and dog play dates and boarding. However, dogs need to have an appointment first on a day stay before they can be taken in for boarding.
None of the boarding involves kennels and the dogs are free to roam within their space and sleep on their special beds when tired.
She also has a Derby dog groomer, Shay Warnken, on site two times a week and said her services have proven to be in demand.
It's an all-dog enterprise with no cats or other animals around. Hardiman also doesn't get into breeding.
"I rescue, I don't breed," she said.
Among her specialized undertakings are CPR and first-aid training for dog owners and working with dogs that have been traumatized in some way and need to be re-socialized, although that process, she admits, can take a long time.
A "Navy brat," Hardiman has lived in a number of different places, but has been in the Derby area since 1996, brought here because of a job her husband, Paul, got at Raytheon. They bought their current property last summer and converted it into the dog business.
The previous owner had the outbuilding set up for his collection of "toys" and Hardiman converted it to two training areas along with the dog washing facility. The change was a major investment and Hardiman said she's committed to developing the business.
As for the name, well, that goes along with the positive reinforcement aspect of her approach.
"I did that because all dogs earn 'high fives,'" she said.