A month into the statewide stay-at-home order brought on by COVID-19, businesses around Derby continue to adapt. Some have seen severely decreased customer traffic or even had to shut down temporarily, some have had even more business then normal, and others entered a slowdown but are gearing back up in hopes that the stay-at-home order will soon be lifted.
No matter the industry, changes have been made in reaction to the coronavirus. Here's a look at how local Derby businesses have been managing the situation.
Healthcare
While most healthcare professions have been deemed essential businesses under the state's stay-at-home orders, they have not been immune to the impact of the virus.
Many medical practices have turned to telemedicine to offer services at this time, with several amending hours due to patients not wanting to come in to physical locations.
"Our patient load has decreased," said Tanglewood Family Medical Center office manager Lori Nighswonger. "Whatever we saw last year, we're seeing only like half of those patients."
At Rainbow Valley Veterinary Clinic, Dr. David Drake noted a similar trend in patient traffic. While his office remains open and offering curbside service to animal owners (treating pets while their owners wait outside), there have been fewer animals treated over the past month.
"It's definitely been down (about 30 to 40 percent)," Drake said. "Obviously we're pushing our preventative stuff off into the next month. A lot of stuff that people have been calling for we're trying to schedule it, but later on, hopefully when this all blows over."
Meanwhile, Wichita Family Dental (with a location in Derby) has remained open as normal throughout the situation. Business traffic has been different, though, according to Dr. Chuck Pierson.
Typically, the majority of conversations in the past year have focused on orthodontics and cosmetic types of elective procedures, but are now geared more toward dental emergencies (i.e., swelling, infections, toothaches, broken teeth, etc.).
Like most medical clinics, Pierson noted sterilization policies have also been heightened at the Wichita Family Dental locations – which will be the same in Derby once the remodeled location reopens on May 4.
"We're just in a whole new normal – wearing face shields, a hair net and the disposable gowns. When a patient comes into the office we have them sanitize their hands before and afterwards. Before they come into the office we're doing temperature checks," Pierson said.
Both Tanglewood and Rainbow Valley applied for and received Paycheck Protection Program loans, which have helped manage staffing situations (whether in terms of limited hours or personnel), while Wichita Family Dental is waiting on approval. All three, however, are concerned that even with the stay-at-home order lifted it will take a while before things return to normal.
Retail liquor
One of the few businesses mostly unfazed by the current situation, liquor stores are operating almost exactly the same as they were prior to the pandemic – though K&S Liquor owner Seth Reed noted he has been closing his store two hours earlier and limiting capacity to 10 customers at a time.
As with all businesses, cleanliness in liquor stores has become more of a focus, with Reed increasing those efforts and offering contactless curbside service for customers. Meanwhile, Rock Liquor owner Mike Harper noted they have started utilizing Everclear to make their own hand sanitizer for use at the store.
For both, business traffic also remains mostly unfazed – even increasing somewhat amidst the current pandemic.
"It's up," Harper said. "I think it's mostly up because the bars are closed, so you have a lot of people who drink at bars who don't go to liquor stores. We've picked up those sales is what it looks like to me, so it's a slight increase."
"We're definitely a little busier than usual. We are seeing an uptick in purchases as well as people buying more than they normally would to maybe try to not come in at a later date would be my guess," Reed said. "Certainly they want us open; we've heard that very regularly, how happy people are that we are deemed an essential business. I think people are coming in because they want a sense of normalcy. They want to be able to do what they've always done, and that includes having a beer."
Rock Liquor has applied and was approved for a PPP loan, while K&S Liquor is still waiting to hear back on its application.
Though business has been good, both Reed and Harper know the longer the stay-at-home order remains in place the greater impact it could have on the local economy, and they look forward to moving past the current situation.
"I think it's very stressful – just the fact that it's a very contagious disease and you have to deal with people every day," Harper said. "Everybody's trying to be safe and you want to shake someone's hand and greet them, but you can't. It seems weird."
Recreation
Outdoor activities are part of an exemption to the stay-at-home order, which means there are leisure opportunities out there.
Some – like golf – are being reviewed on a case-by-case basis (with both courses in Derby currently open), while other recreation-based businesses have had to shut down temporarily. Derby Bowl falls into the latter category.
Owner Derek Frazier noted the bowling alley closed March 19. While his business has received the PPP loan since then (a great benefit), he looks forward to the point when Derby Bowl can reopen – a moment for which employees are currently preparing.
"We've got some staff inside the building doing some disinfecting and cleaning, getting ready to reopen – cleaning, floor waxing and just all kinds of disinfecting," Frazier said. "I think they need to get the economy moving. I think the governor's feeling a little pressure and it's probably time they open things up, even though it's going to be a soft opening and slow process. They need to get started pretty quick."
Restaurants
Jose Ayala, the manager and owner of the Derby and Wichita La Hacienda locations, said the restaurant has been doing its best to bring in business since the stay-at-home order went into effect – but it has been difficult.
"Business is not like it usually is," Ayala said. "It's not like what we've come to expect, but we're doing what we can do. We would like to get more business, but it's all we can do."
La Hacienda was used to getting more than 100 groups of customers each day of business. After the stay-at-home order began, the restaurant has been getting around 20 customers per day.
Normally Ayala has a staff of around 20 workers. Right now, he is only able to keep a few working.
The Kansas stay-at-home order is currently set to be lifted in early May, unless Governor Laura Kelly makes a change. But Ayala is not sure when La Hacienda may be able to fully reopen and allow customers to dine inside. No restaurants know when that will happen. Ayala said if things get worse or stay consistently bad, La Hacienda may have to even stop doing takeout orders.
"A couple hundred dollars is not worth the risk," Ayala said. "It all depends. If it gets better, we will continue to stay open. We've got to wait and see."
Barbershop/hair stylists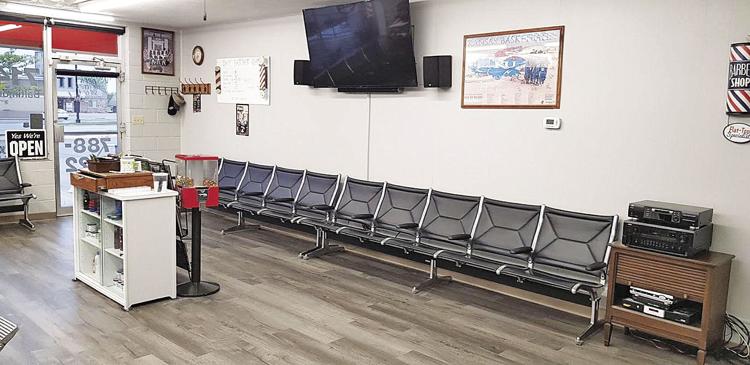 Vu Nguyen, owner of D&M Barber Shop, has been a barber in Derby for nearly 25 years. This is the first time over those years that he hasn't been able to cut hair.
His business is all about shaking hands, sharing stories and cutting hair. COVID-19 changed everything.
The barber shop has been closed since March. Once he is able to reopen, Nguyen said there will probably have to be some precautionary changes.
"Probably we're going to change how many people can be in the shop at any time," Nguyen said. "I don't take appointments, but we'll probably have to make people sit in their cars and wait."
Financially, too, Nguyen said it probably won't be the same.
"The amount of people will be way down, and some people are going to be scared. They're going to hold back, and they're going to cut their own hair. It's going to change what people do," Nguyen said. "It's sad, very sad."
Being closed, the lack of income is the biggest challenge at the moment. While Nguyen applied for the PPP loan, he was not approved to receive funds.
The lack of income hurts, but Nguyen said he's going to make sure to follow the guidelines upon reopening so he can keep others safe and asks for understanding of those changes.
"I don't want to be that guy, just in case somebody gets sick and comes to the shop. I can't deal with that. I can't live with that in my life," Nguyen said. "Let's say you come in and I say 'can you sit in the car?' Please don't be upset. We're not going to do this forever. And right now it's the right thing to do. So don't take it personal."
And Nguyen urges people to support small local businesses – all the time, but especially right now.
"They need all the help they can get when they reopen again," Nguyen said. "So please support them, because some of them will not survive. They will not. So if you can help local stores when they come back, help them. They need all the help they can get."
Home repairs
Quality Construction and Remodeling owner Jared Brown took a poll of his employees, which led to a temporary shutdown of his business, even though it is considered essential. Brown and crew reopened as of April 20, though, and have stayed busy – and safer – given the number of jobs the company has picked up.
"We're back at work now and, yeah, we are practicing social distancing on the job site," Brown said. "The good news is we're doing a lot of outdoor stuff right now, so that's quite a bit easier."
Some jobs – like bathroom remodels – make that trickier, but Brown said he has implemented a one-person limit for inside work in such scenarios.
Brown did apply and receive a PPP loan, which helped during the temporary shutdown. It also allowed him to hire an additional member for his crew as they enter their busy season.
"We're really busy right now. We're actually booked out until July and I've got a lot of other estimates out there, so we've got a lot of work on the books," Brown said. "I think people are at home and realizing that, 'okay, well we may not be traveling this year; let's do this project at the house that we've been putting off.'"
Receiving the PPP loan has helped Brown, but there have certainly been hiccups caused by the current pandemic. Moving ahead, he is hopeful that will turn around soon to provide a stimulus to the economy.
"A lot of what keeps the wheels turning in our economy is people spending money. They spend money with me, I can therefore turn around and spend money with somebody else – some other local business, some other suppliers – it's the circle of life," Brown said. "Going forward, obviously all of us are hoping that this just kind of fades away and we can get back to life as normal … because it's pretty frustrating."