Elizabeth O'Connor's Reality 104 class at Derby High School is all about preparing students for the workforce.
"I teach job skills — how to apply for a job, fill out a résumé, how to conduct and dress for an interview," O'Connor said.
And that's why, in her second year teaching the class, O'Connor challenged students to put their work skills to practice by running their own coffee stand at DHS.
Panther Brew, which held a soft opening Nov. 15, currently offers hot tea and coffee to staff members for the affordable price of $2. Paying customers can also pick up complimentary donut holes.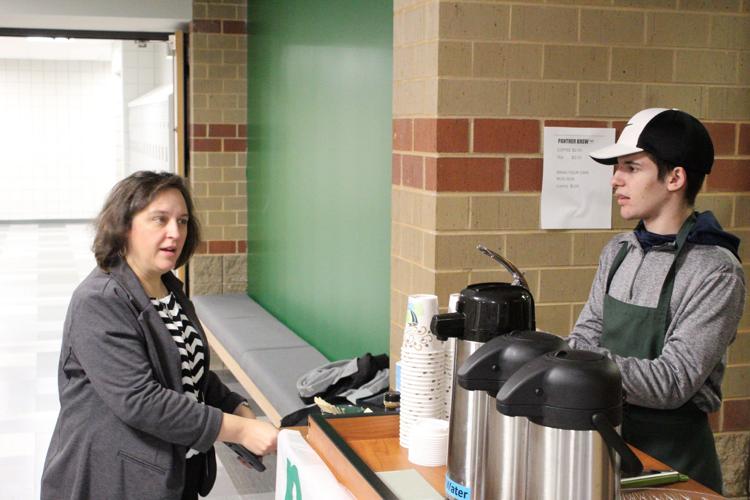 "It's treated just like a job. They clock in and they get their apron on and then they go in and start making coffee and set up the coffee cart," O'Connor said. "They're responsible for all aspects of the coffee. Each week they're assigned duties; it usually alternates."
The stand seems to already be a hit among the building's staff, raising about $100. All of the money will go back into the program, including for more equipment like an iced-tea maker. They'd ultimately like to acquire an espresso machine.
Along with the hands-on experience of cashiering and interacting with customers, each student had to earn a food handlers permit before working at Panther Brew – yet another aspect of the program that O'Connor says will prepare them for future employment.
"I could lecture all the time about how to apply for a job and have a job, but it's better for them to have hands-on experience," O'Connor said.
Dylan Gray, a junior who helps operate Panther Brew, said the class has helped him feel more prepared for a job after high school.
"It has been a really awesome experience," Gray said of the coffee stand. "Once I'm out of high school, maybe I would want to start my own coffee business one of these days."
Mia Ramirez, another junior on the Panther Brew team, said she hoped to go into the Marines after high school. She's a member of the DHS Air Force JROTC program.
"Seeing new people," she said.
Panther Brew will be open from 8:30 to 10:30 a.m. each green day in DHS's L-hall. The stand will be open next on Wednesday, Dec. 4.