It's been a season of firsts – in the best way – for the Kansas Grown Farmers Market held at Madison Avenue Central Park in Derby.
While the Derby farmers market had to adapt to COVID-19 like so many other businesses, opening a little later than normal for starters, this season has turned into one of the best in the 10-plus years the market has been operating locally.
Tom Lezniak, previous Kansas Grown chairman, took over as manager of the Derby farmers market this year and has been attempting to build up the market.
Currently, the Derby market – which traditionally operates 8 a.m. to noon each Saturday from April through September – averages around 20 stalls each weekend. Lezniak is hoping to have even more next year in an effort to create benefits for local vendors, consumers and the community overall.
"It's helping the local economy. It's helping the local tax base. It's getting better nutrition to all people in Derby and the surrounding areas. It's helping small farming," Lezniak said. "When I started out, my intention was to give a full offering to the community of Derby and that seems to have worked well and had a good response."
For this year, though, one change that recently went into effect (approved by the Derby City Council) allowed the market to continue operating through October – with support to possibly continue that in the future.
Having a longer schedule falls in line with standard operations for many vendors, while Lezniak also noted the opportunity for more sales in general would be a boost.
"By extending the season, Derby's definitely allowed us to follow the farming season," Lezniak said. "It allows additional resources of income and just kind of reinforces small business, I think."
"As far as vendors, we love having it extended because summer can get quite hot and it's kind of nice to go to the market when it's a little cooler," said Lisa Anthony, operator of Crafty Shenanigans. "Because of COVID …. especially people in my industry, we don't have a lot of craft fairs to go to and this market has just really been a boost to us."
So far this year, even before the extension of the market, vendors have been seeing a lot more business in Derby.
"In Derby, we had several vendors who have been there almost since the beginning that set single day records for Derby multiple times this year," Lezniak said.
Both Lezniak and Kansas Grown Board President Tricia Holmes have similar ideologies that Derby can be a strong, vital market that stands on its own rather than being a satellite of Kansas Grown. With that philosophy, more strategy (i.e., money for marketing) went into the Derby market this year and Lezniak noted that has paid dividends.
Even though it is her first year, Anthony has reaped the benefits. Anthony makes soap, candles and a number of other products she sells through her Crafty Shenanigans stall at the farmers market in her hometown. While she had a sales goal in mind for her first month (back in June), she was surprised to reach that in a matter of weeks.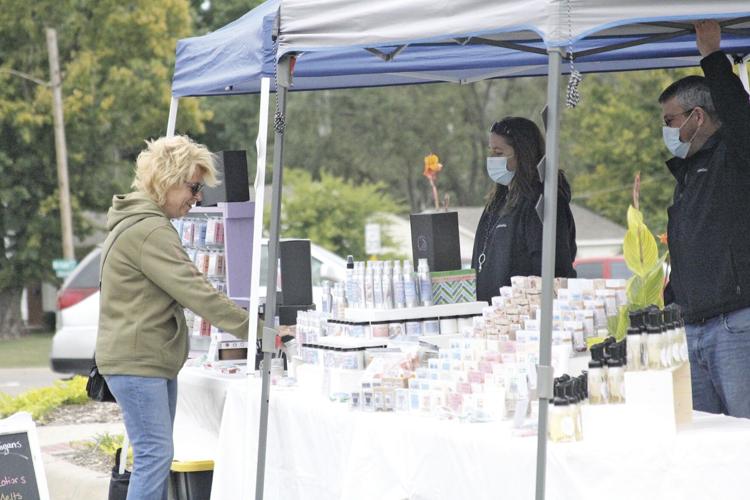 Anthony has friends who also sell at the Derby market who she said are seeing much better sales numbers than last year.
Meanwhile, Jim Wilhoit of Kansas Compost (based in Derby) is in the same boat as Anthony. This is his first season at the Derby farmers market. While it has gotten off to a good start, he is one who will benefit greatly from the extension of the season.
"Now, the month of October will be the biggest time for me because everyone is finishing taking off their gardens and now they're wanting to till this into their soil for next year," Wilhoit said.
The market atmosphere also helps draw people in and Lezniak seeks to expand on that. While he is all about providing a variety of products to customers, he is equally focused on giving opportunities to local producers to make a living.
Vendors are grateful for that and, even amidst the numerous changes this year, noted things have been going pretty well.
"The community support with everything going on has been amazing," Wilhoit said. "We've had a really good response, we've had good crowds, the people have been real respectful of what we're doing and appreciative of what we're doing. It's just been a really good experience."