Andrew Ramirez credits the tightly knit community in Derby for the success of his business.
That story is not uncommon for businesses in the area, but the type of business Ramirez operates certainly is.
Ramirez cleans outdoor trash bins – and a lot of them. Since establishing Alpha Bin Cleaning in May 2018, he says he has gained over 900 customers in Derby and the surrounding area.
He got the idea to start a trash can-cleaning service while working a door-to-door job in Dallas.
"[Trash cans] would just smell, or sometimes after trash gets picked up, you see the trash can just on its side," he said. "I looked inside of it like 'Oh my gosh, this is disgusting.'"
Originally from Wellington, Ramirez returned to Kansas in 2017 following the death of his grandmother. Shortly after starting his business, he moved to Derby to be closer to the majority of his clientele.
"I got most of my customers through my Facebook page, I knocked a little bit, got the word-of-mouth out there," he said.
To deodorize and sanitize bins, Ramirez uses pressurized water at nearly 200 degrees – a method that allows him not to use chemical products.
"Everything I do is eco-friendly," he said.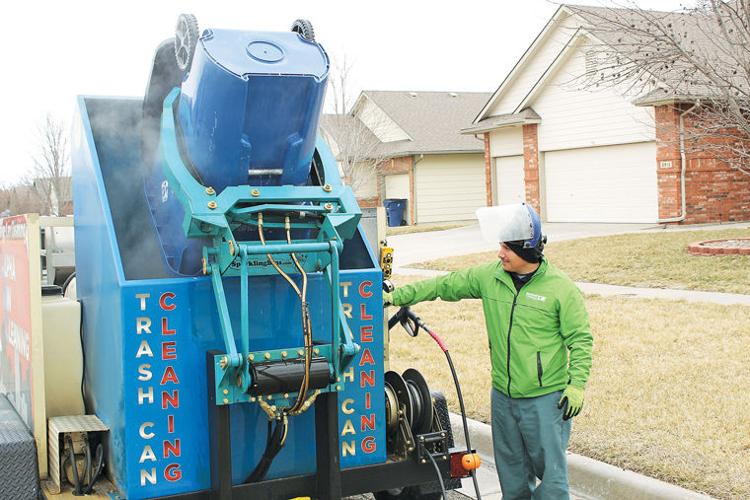 Water is stored in his truck, which is designed to advertise the company's brand.
Traveling to cities as far as Clearwater and Newton, Ramirez works alone. He hopes to buy a new truck and hire some help in the coming months.
To his knowledge, Ramirez says he's the only business that cleans trash bins in Kansas.
The busiest part of the year seems to be in the spring and summertime, Ramirez said, while business slows down a bit during the winter. To make up for slowness during last November and December, he offered reduced rates for one-time cleanings.
Currently, Ramirez offers rates for one-time cleanings and subscriptions.
For customers with only a trash bin, a one-time cleaning is $20. With a recycling bin, that charge increases to $25.
Customers can also choose to pay $10 a month to have their trash can cleaned once a month, with options for a three-month, six-month, or one-year term.
With a recycling bin, those rates are $45 for three months, $90 for six months, and $180 for a year. Customers get one free cleaning any time they renew their subscription.
Ramirez said he tries to organize his schedule according to trash pick-up schedules in Derby neighborhoods. If trash runs in a certain neighborhood on a certain day of the week, he tries to be there that day.
Since starting Alpha Bin Cleaning, Ramirez says he has piqued the interest of some homeowners associations.
"My biggest goal is to reach HOAs in Derby, so I could just stay closer," he said. "But I also want to show the same support back to Derby that it showed me because Derby has showed me open arms, like love."
The easiest way to schedule an appointment or subscription with Ramirez is to find the official "Alpha Bin Cleaning" page on Facebook, or to call Ramirez at (316) 990-1210.
You might also see Ramirez working in an area near you.
"If you see me in a neighborhood, please feel free to stop me and ask me my rates," he said.