Do you know the watermelon man, who sells on south Broadway?
Chances are if you do, you've benefited from a lifetime's worth of knowledge – given that watermelons are basically in Kenneth Simons' DNA.
"Before I went to school, probably when I was 6 years old, my dad raised watermelons. He had me out in the field with him while he was raising them; I was out there with him all the time. Through the years, I stayed and worked with the watermelons," Simons said. "I'm 88 years old, so you might say I've been around watermelons for 82 years – all my life."
A native of Ringwood, Okla., Simons relocated to south Wichita in 1962 and brought his watermelon farming operation with him. Through the years, he has grown all around the south Wichita area and can now be found selling his crops seven days a week near Colonial Heights Church (5200 S. Broadway).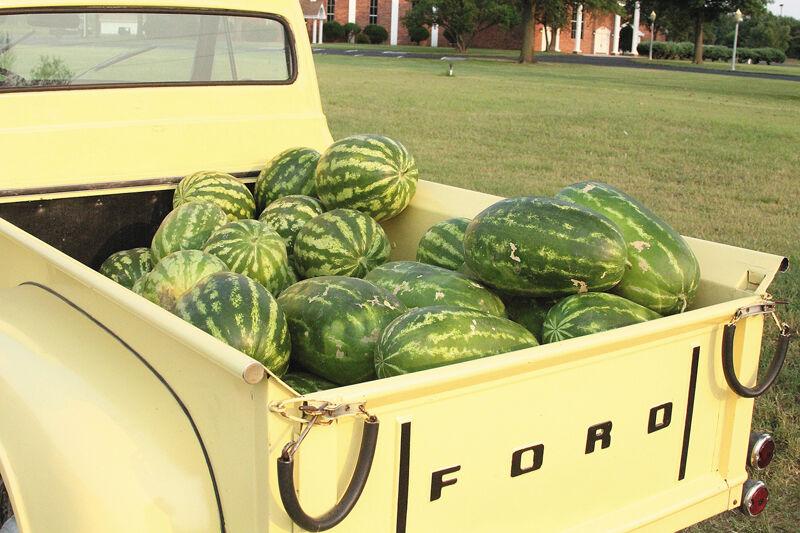 Currently, Simons has a nearly five-acre plot where he grows watermelons – though he has also added cantaloupe and tomatoes to the mix for diversity.
While he has been retired for almost 30 years now, Simons regularly held a day job through the winter months (driving for Graves Truck Line for many years), but the summer months have always been about watermelons.
Now that he is retired, Simons' focus is solely on the watermelons – noting he hasn't taken a day off since March. Though he will often recruit local high schoolers to help with his operations, Simons still handles the bulk of the work – with his experience helping him stretch harvest through the end of September.
"Most people are out by Labor Day, but I'm a damn glutton for punishment. I stagger them out and keep planting, so I have until frost," Simons said.
Generally, Simons will start picking at 8 a.m., load up the watermelons in his antique yellow Ford truck, take a break for lunch and then sell in a lot near Colonial Heights Church from 2 to 6 p.m. daily. Having done it so long, it's possible Simons can't let go of the work, but it's his experience that also continues to draw customers.
"My customers come back year after year. They wait for me to get watermelons because I know how to pick them. I've worked around them all my life and I can pick them a good watermelon," Simons said. "Ninety-eight percent of them come right back and get another one."
Simons has sold to customers from as far away as California (thanks to some timely press), but his operations are mainly local – though he did also sell wholesale for a time when he started out.
While Simons was soured on the wholesaling experience, he has never lost his joy for watermelon farming and going through the growing process each season.
Earning a reputation as "The Watermelon Man," Simons joked that can sometimes leave him feeling tired – depending on the amount of business and work put in on that given day. Noting sales will fluctuate from week to week like with any market, he noted the watermelon business has always tended to provide as needed.
"It's not enough to get rich, but I haven't struggled to put food on the table," Simons said of the business.
According to Simons, customers seeking out his watermelons this season will be able to purchase product from him through the end of September.