Any family gathering is bound to be full of stories and memories shared, as that's typically how family history is passed on, but the story of Mulvane High School math teacher Ginger Baerg's family will be told a little differently (and more publicly) – as it is the framework for her first children's book, "My Patchwork Family."
Starting as a video project for their children when the Baergs adopted their oldest daughter, Baerg explored and shared about the quilt-like nature of their non-traditional family – as she and her husband foster (six kids in the past seven years), have two adopted children and three biological children as well.
From there (about a year and a half ago), Baerg turned that project into a book, which she had intended to stay within the family. However, feedback from outside of the family encouraged her to change those plans.
"Originally, I wasn't really planning to (officially) publish. I was just kind of writing it for my family," Baerg said. "Then, I had some friends kind of proofread it for me and they really encouraged me. They were like, 'no, this story really needs to get shared.'"
Baerg sent her book out to publishers after completing it but hadn't heard anything back. At the start of this year, she decided it was time to move forward through self-publication, hiring an illustrator in March to help enhance the final product.
In August, Baerg launched a Kickstarter campaign, looking to raise funds by the start of October to publish her book – an endeavor she became committed to as friends, family and Baerg herself noted the lack of such resources out there in the children's literature landscape.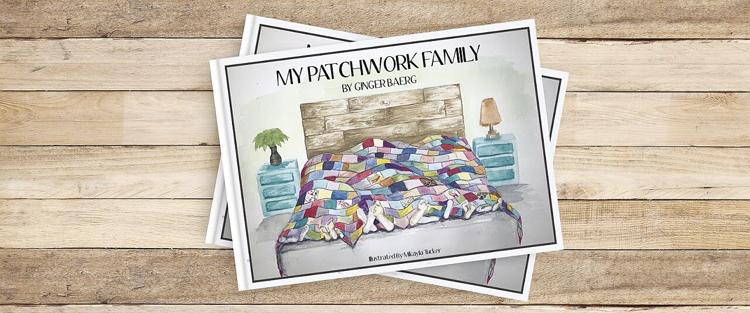 "This book is our family's story of our journey through foster care and adoption and it's told from the perspective of my oldest biological son, so it gives that viewpoint of a child in a family that chooses to foster and adopt. I think that's really important because I think a lot of times people forget about the sacrifice and the part that kids play in that process, and how important it is for them to truly love, accept and welcome those kids," Baerg said. "I did not find very many kids books about foster care and adoption. I felt like there was a gap there. Whether or not a family chooses to foster/adopt, just to be able to teach their kids about that I think is really important and to see that perspective."
Geared towards children in general, the picture book – with illustrations by fellow Mulvane resident Mikayla Tucker – is appropriate for preschool age children on up.
While some of the illustrations and names have been changed to protect identities, Baerg noted the story tells "100 percent" the experiences her family has gone through in fostering. She said her husband gave her the idea of telling it through the perspective of her son, which she hopes makes it more approachable in terms of starting discussions among families thinking of fostering themselves.
"If you've ever even thought you want to know more about foster care adoption, if you've thought about doing it or especially if you are doing it, it's a resource to open those conversations with your kids," Baerg said.
Should her fundraising goal be met, Baerg noted she was informed her books should be available around Christmas. They will first be made available to supporters, but she noted she is working on selling some on consignment and will also make them available on her website (www.mypatchworkfamilybook.com) once printed.