Truth be told, Mulvane High School wrestling coach Rick Langerot didn't expect to be in the position in which he currently finds himself.
Langerot announced his retirement from coaching at the conclusion of the most recent wrestling season after 30-plus years at the helm of the Mulvane Wildcats' program – a far cry from his initial career aspirations of working in the military/law enforcement.
"Coaching and teaching was not on my radar. I had not ever planned on doing it," Langerot said. "It was my wife who suggested I go into teaching. Actually, for the first couple years, I kept telling people, 'I won't be back next year,' and 43 years later here I am. I've loved every minute of it; it's been great."
As the old saying goes, if you want to make God laugh, tell him about your plans. So, while planning out his military career and wrestling at Fort Scott Community College, Langerot got thrown a curveball. Losing sight in his right eye during his collegiate wrestling career, he had to come up with a new plan.
The Columbus native (who also wrestled four years in high school) had been around wrestling for years, also officiating in his off time while at Fort Scott Community College. Taking the nudge to continue the natural progression with the sport he had spent most of his life around, Langerot began his coaching and teaching career at Fort Scott High School. He spent 12 years there before taking a position teaching history and coaching wrestling at Mulvane High School ahead of the 1989-1990 school year.
Mulvane presented an interesting and enticing opportunity, as the school had no wrestling program to speak of at the time.
"I was kind of looking for a little bit of a change, and I heard there was an opening out here and they were thinking about starting a wrestling program," Langerot said. "I thought it would be really cool to go someplace and start one from the ground level and see how it worked out. It was kind of an adventure, so I jumped on it, and it really worked out well."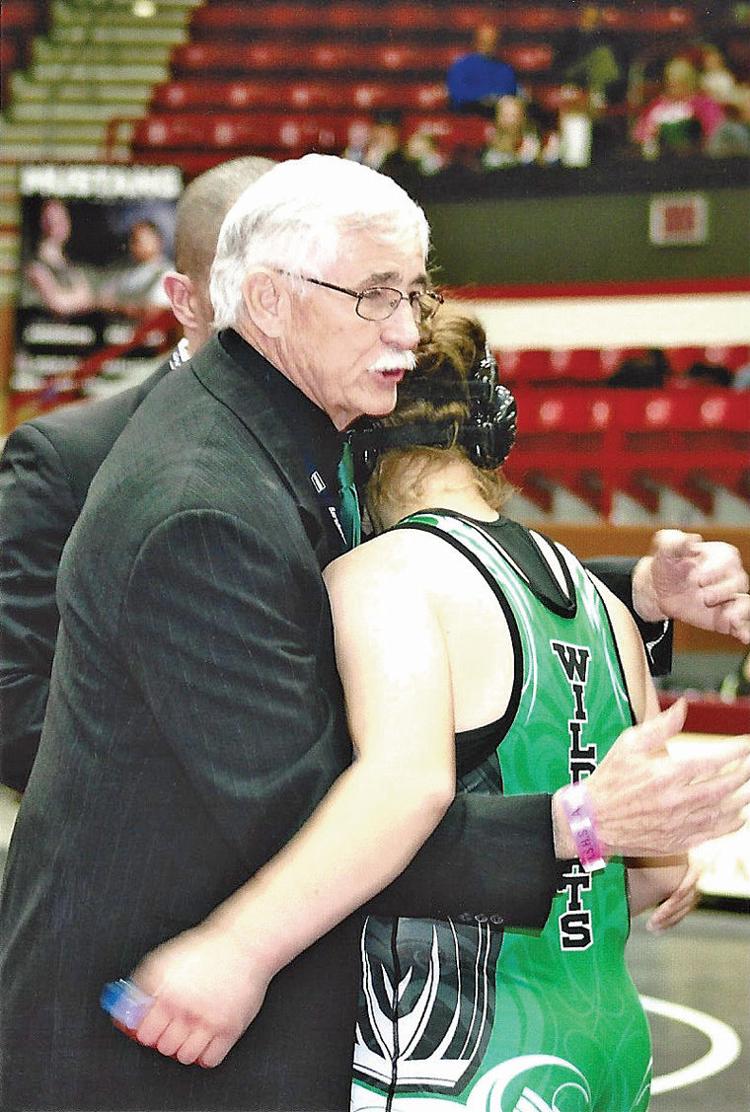 Worked out well might be a bit of an understatement, as Langerot has been recognized with multiple coaching accolades during his time at Mulvane, including being named KWOA 4A Coach of the Year (1992-1993), Regional Coach of the Year (2010), AVCTL Coach of the Year (2011, 2012, 2015 and 2018) and both KCA Wrestling Coach of the Year and NFHS Kansas Boys Wrestling Coach of the Year in 2018-2019.
Additionally, Langerot will be inducted into the KWCA Hall of Fame in 2020, a "big honor" that he admitted he never thought possible when he first started.
Overall, during his 43-year coaching tenure, Langerot has recorded 357 dual wins, seven league championships, two regional championships and a third place finish at 5A state wrestling in 2001-2002.
Langerot has also coached 62 individual state medalists – including eight individual state champions – with that success boiling down to a fairly simple philosophy.
"I consider myself kind of a Pop Warner coach more than anything else. I always put my kids first and we just concentrated on the basics. I figured if we do the basics well, we'll do alright. I always told the kids, 'we want to train to be champions,'" Langerot said. "I think we've probably built a good, solid program here. I don't think there's many people that would argue we haven't because we tend to compete every year and we've made it to the state tournament every year. Even the first year, which a lot of people doubted that we would do, we still managed to get kids to the state tournament."
Having worked with wrestlers of all ages (helping start the club wrestling program in Fort Scott), developing those relationships is one of the things Langerot said he will miss the most stepping away from coaching. He has enjoyed the competition and seeing his wrestlers succeed, whether at the varsity or JV level, or as coaches now themselves.
After 43 years coaching, Langerot admitted it will be hard to walk away cold turkey, but it was time with his wife also retiring and his grandchildren starting activities of their own. He also made a promise to himself, though, that he wanted to leave the program he started in good shape.
"You always hear the stories of 'well, that coach left because all the talent left.' I just promised myself I wouldn't do that, and I'm leaving a pretty good, solid team, so I feel good about that," Langerot said. "I hope that it will always be a respected program. I hope I've established a good, solid foundation for the wrestling program here."