Haysville's Vickers Building has been designated a state historic site.
The Kansas Historical Society (KSHS) officially listed the building to the Register of Historic Kansas Places following an Aug. 3 vote by the Historic Sites Board of Review.
"The Vickers Station historic designation represents new opportunities for the City of Haysville," said Zach McHatton, economic director for Haysville. "The building and its provenance will be interesting to a wide range of people."
The building, 140 N. Main St., is a former Vickers petroleum service station designed by architect John Hickman in the 1950s. It is believed to be one of the first gas stations in the United States with the signature "batwing" roof, which is more accurately called a hyperbolic paraboloid.
Besides its bold and post-war modernist architecture, the building holds local significance as reportedly being one of the few historic sites to survive a 1999 tornado on the east side of Main Street from Grand Avenue to the Big Ditch.
"The community's efforts to preserve the last remaining bit of their town after the tornado displayed the city's desire to rebuild their town and to preserve its history to the largest extent possible," said Kristy Johnson of Ben Moore Studio in the building's nomination letter.
Its interior was damaged by the tornado and was later redesigned in 2007, but the structure and foundation remained. For the last seven years, the 665-square-foot building has served as office space for the Haysville Chamber of Commerce.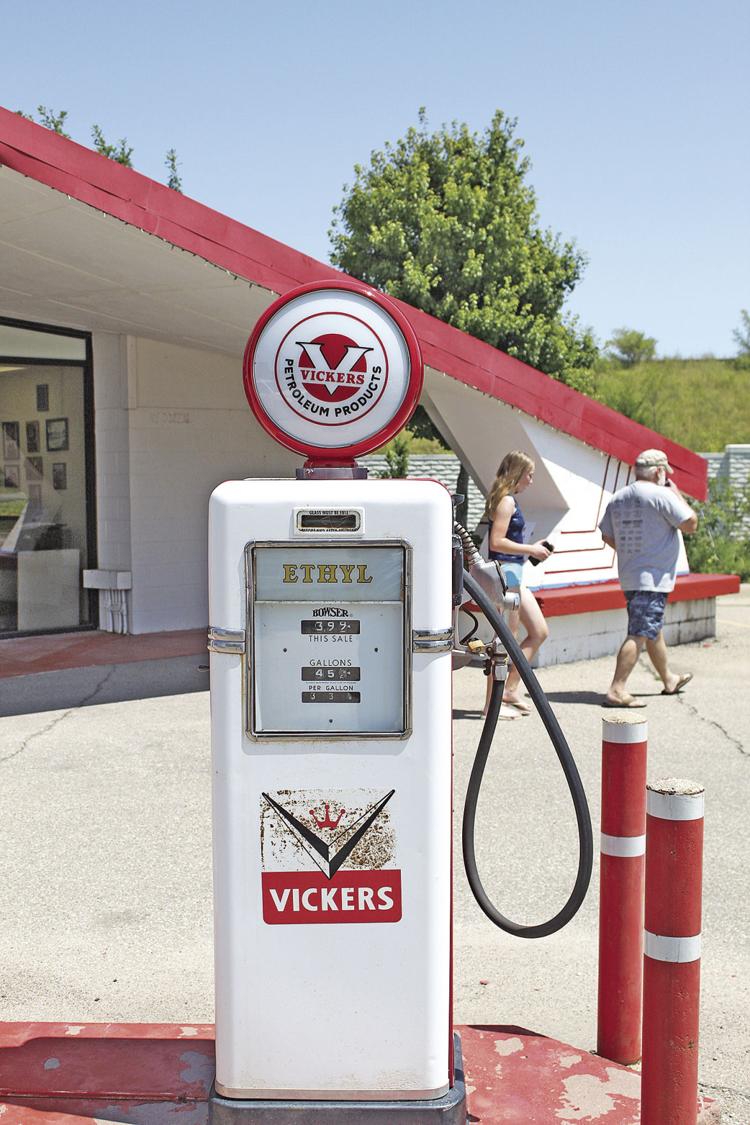 In modern times, the building stands out among newer buildings and strip malls in Haysville's commerce district. Though they're out of order, a handful of fueling pumps still remain in front of the building.
Katrina Ringler, preservation office supervisor for KSHS, said Haysville became a National Park Service-certified local government in 2016, allowing the city to look into preserving some of its historic sites.
"Now that the Vickers nomination is done and the property listed, I think [the city of Haysville] will be looking to apply for grants from us to do more preservation work and maybe list more buildings," Ringler said.
There are currently no other designated sites in the city.
Ringler said there is a process for evaluating historic site nominations, including a set of criteria.
The Vickers Building met two of the four criteria: an association with events that have made a significant contribution to the state's history and distinct architectural characteristics.
The building's nomination has now been sent to the National Park Service, which will evaluate whether to list the building as a national historic site. Ringler said this process can take several months.
While the city of Haysville has no specific event planned at this time, it is looking into ways to recognize the milestone. More details will be available after the city learns whether the building will be listed on the National Historic Register.