Pockets of Derby saw risen water from approximately four to six inches of rain from May 5-8, but saw little to no structural or property damage.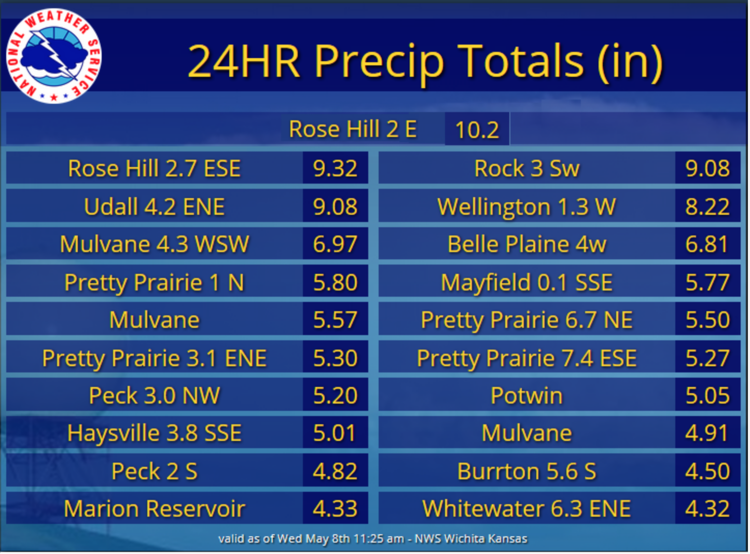 Multiple roads temporarily closed across Derby at approximately 3:15 a.m. on the morning of the 8th.
Spring Creek exceeded its banks and flooded High Park. City officials shut down traffic on Madison Avenue from Greenwich Road to Timberleaf Drive. East of Derby, Meadowlark Boulevard was flooded at South 99th Street.
All city roads were open again by 11 a.m. Wednesday.
"The water was moving fast and flowing well [at the rain's peak on the 8th]," Derby Public Works Director Robert Mendoza said. "This is the fastest we've seen the water recede over Madison Avenue. In the past, it has taken several more hours to go down to allow the street to reopen."
The Derby Fire Department reported helping a driver from their partially submerged vehicle near Nelson Drive. Another vehicle was left in the road near James and Lakeview Drive. No one was hurt or injured in either incident.
USD 260 reported small delays in bus travel after the heaviest rains on the night of the 7th through the morning of the 8th.
"If it looks like water is going over the road ... don't drive into it," Derby deputy police chief Brandon Russell said as a warning of flooding rains. "Water moves fairly fast and you don't know what's going to happen."
Mulvane road closures cause confusion 
By around 11:30 a.m. Wednesday, May 8, The National Weather Service said Mulvane received between five and seven inches of rain, varying by location. Rose Hill received the most rainfall from Tuesday's storm, with over nine inches.
Beginning at 5:25 p.m. May 7, Mulvane Fire Rescue said it responded to 10 storm-related calls over 12 hours. Nine of those calls were for vehicles submerged in water, and one was for a tree arching on power lines.
Lowell Ester, captain of Mulvane Fire Rescue, said several of the calls were due to closures of US-81 and the Kansas Turnpike at 119th street.
"People were roaming around trying to find alternate routes and were unfamiliar with the roads," he said in a release.
Access was re-opened to both highways as of Wednesday afternoon.
One driver was swept off the road into Dog Creek around 11 p.m. Tuesday near Webb Road.
A team of rescuers was unable to reach the car at first, Ester said, due to swift water and a fast current. The car was eventually stopped by trees about 600 feet away from the road, he said, which allowed the squad to launch a boat and rescue the driver.
Sedgwick County and Derby water rescue teams assisted with the rescue. In response to the incident, secondary safety rope lines were established on K-15 at the Dog Creek Bridge.
Throughout Tuesday night, Mulvane EMS transported one patient to Wesley Medical Center, and several to Fire Station No. 1 or 2, where they awaited rides.
City Administrator Kent Hixson said he had not seen significant damage as a result of the flooding. He said the former site of Uncle Roy's had water in it but was ultimately drained.
Additionally, he mentioned that some homes in city limits had flooding in their basements due to sewage back-ups.
Hollie Tapley, disaster response coordinator for the Great Plains Methodist Conference, is currently performing a damage assessment in the city. Tapley could not be reached for comment as of May 13.