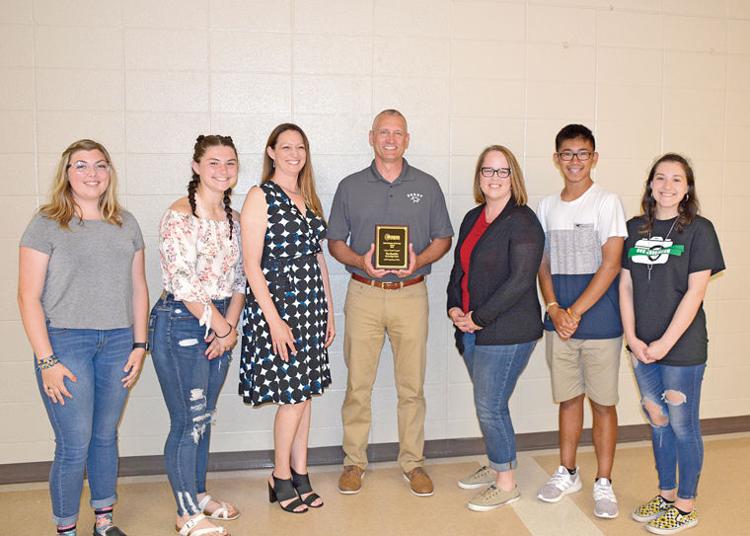 Tim Hamblin, principal of Derby High School, was recognized at the May 28 board of education meeting for supporting panther publications.
The Kansas Scholastic Press Association selected Hamblin as the 2019 Administrator of the Year. The award recognizes administrators who have stood up for the first amendment and their students.
According to KSPA guidelines, the nominee should support the Kansas Student Publications Act, provide adequate financial support for student media, understand the importance of journalism in secondary school, and provide support for journalism students and advisers.
In her nomination, DHS Journalism Teacher Joanna Chadwick said Hamblin has been an "excellent partner" for the journalism program.
"… [W]hen he has questions about stories, it is clear that he is aware of the freedoms the journalists have," she said. "When my students work with him, he is excellent. He's honest, he finds time for them and he encourages them."
Hamblin said journalism is an example of applied learning and that schools should use it as an opportunity for students to get hands-on experience.
"In the various journalism courses, students learn there is much more to a paper or publication than writing the stories," he said. "They have to learn about selling advertising to pay for the production of the publication. They learn about the layout process. Today they learn about various aspects of the digital form of journalism."
Hamblin, a DHS alumnus, worked on the Panther's Tale staff during his junior and senior years. His favorite part of the process was laying out the paper.
"I found I really enjoyed that more than the writing aspect which is what most people only think of when it comes to journalism," he said. "If I had not had the opportunity to experience the entire production process, I never would have known that I liked it."