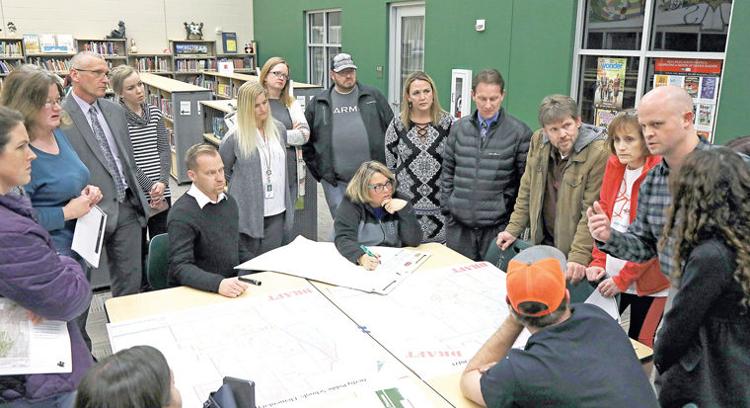 Dana Jewett knew going into the evening that her children at El Paso Elementary School wouldn't be affected by upcoming boundary changes for the 2020-21 school year at Derby Public Schools.
Her family lives so close to the school that they might as well have the same address.
But she still wanted to learn more about what's coming for the district. So she attended the first of two public meetings about the boundary changes, got a first look at two concept maps and listened to what administrators, a consultant and boundary change committee members had to say.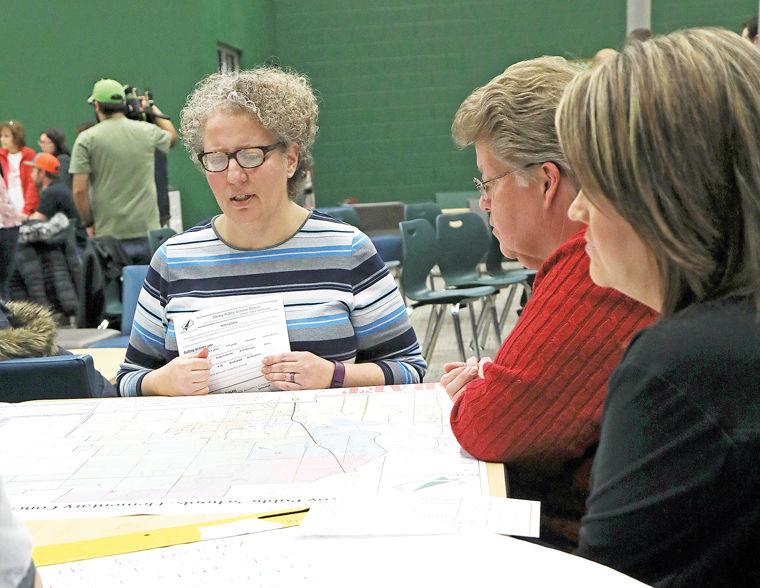 "There's a lot of uncertainty for others," Jewett said, seated at one of four stations where large maps of the two proposals were spread out for members of the public to pore over at the Jan. 17 meeting.
Jewett has a kindergartner and second- and fifth-grader at El Paso as well as a seventh-grader at Derby Middle School.
Her greatest concern is how boundary changes will affect where students end up in middle school.
"I would love to see where we can feed whole schools to the middle schools," she said of what's called a "complete feeder system," where all students at an elementary school attend the same middle school. "That way students go to middle school with people they do know."
The district's last boundary changes occurred in the 2015-16 school year.
Superintendent Heather Bohaty kicked off the meeting by giving some history.
"Prior to the bond issue, I can tell you we had discussions in the district where we were seeing concerns in the areas of our numbers in the district and in our buildings. We were seeing some imbalances with numbers," she said, alluding to the bond issue voters passed last year.
Pleasantview Elementary School will be closing after the 2019-20 school year. A new elementary school in the Stone Creek neighborhood is slated to open for the 2020-21 school year.
Since last spring, the district has completed an enrollment study and leaders have "walked every single space and room at the elementary, middle and high school levels," Bohaty said. It formed a boundary committee with three representatives from each school, members of the community and building administrators.
The committee is working under three guiding principles, Communications Director Katie Carlson told the Informer earlier. One is projected enrollment/utilization of space. Another is keeping neighborhoods intact, meaning that boundaries should be structured to maintain a neighborhood within one school's attendance area and that neighborhoods should not be split between two schools. Financial consideration is the third principle.
Consultant Robert Schwarz of RSP, an Overland Park firm the district hired to help with the boundary changes, said the district "wants to have the right enrollments. We don't want too many students [at a school], and we don't want too few students."
He told parents at the meeting that the district knows not everyone will be happy with the changes.
"There are a lot of committee members who don't like certain things on these maps," he said.
Bohaty prefaced that discussion by acknowledging that change is difficult. Despite that, she said she believed that because of the quality of schools in the district, "We can't go wrong. As we work to shift boundaries, our kids are going to be taken care of."
Caroline Walck said her family deliberately bought a house so their children could attend El Paso.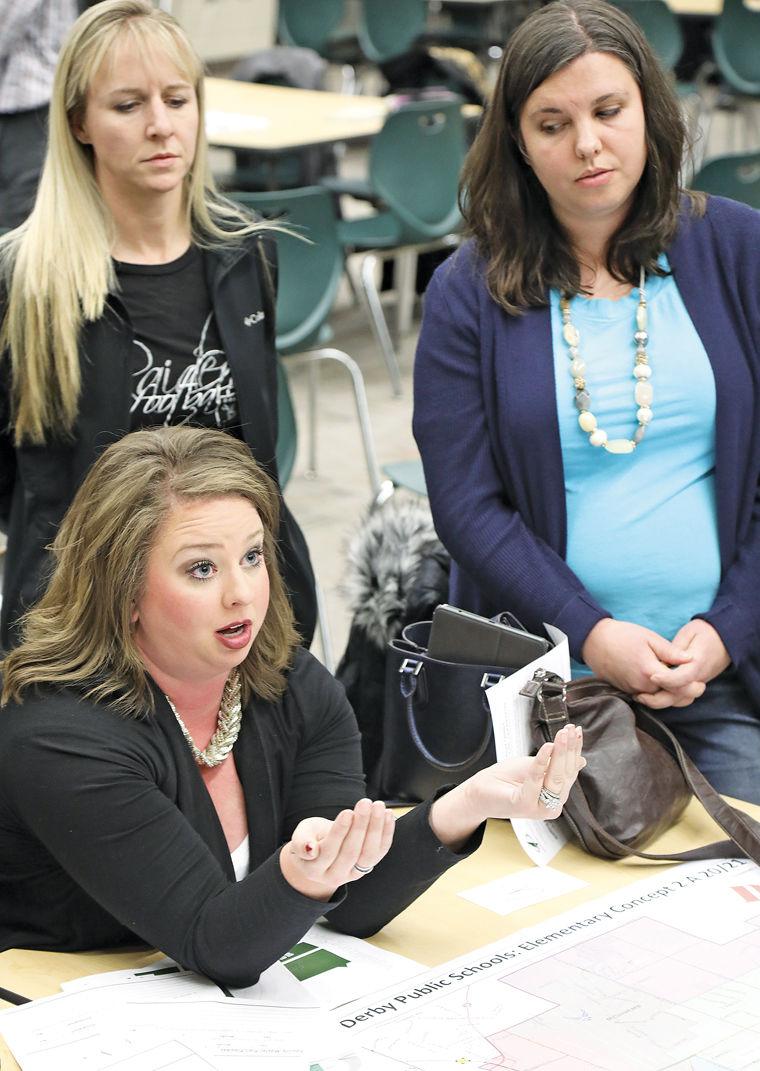 "We've lived there four months," she said, expressing frustration to the committee members at her table about how the boundary changes might disrupt her children.
Under one of the proposed maps, her children would attend Derby Hills, from where her fifth grader transferred. Under the other map, she said it looked like her children would attend the new school at Stone Creek.
The two concept maps are available online at www.derbyschools.com.
The district has created a survey that parents who can't attend the two public meetings can submit.
Among chief differences between the maps:
• One of the maps, called Concept 1A, lowers Wineteer's enrollment so capacity at the building is less than 90 percent. The other map, called Concept 2A, has capacity at Wineteer at just more than 94 percent.
• Concept 1A places greater focus on making El Paso and Tanglewood have more compact attendance areas.
• Both maps have more students moved into the existing Oaklawn attendance areas.
• Concept 2A keeps El Paso's existing boundaries the same, which still results in the existing Pleasantview attendance area being moved into Derby Hills, El Paso, Oaklawn and Swaney, the same schools Pleasantview would be split to in Concept 1A.
Parent Holly Duft came to the meeting because her family is putting their house on the market. Their fourth-grader attends Tanglewood.
"Ideally we would like to stay at Tanglewood," she said. The changes, she said, "open up questions about where to buy."
Despite some uncertainty, she said, "Overall, Derby has amazing schools."
The next meeting is tonight at 7 p.m. at Derby North Middle School.
The committee is scheduled to make its recommendations to the school board March 11. The board plans to adopt new boundary changes March 25.