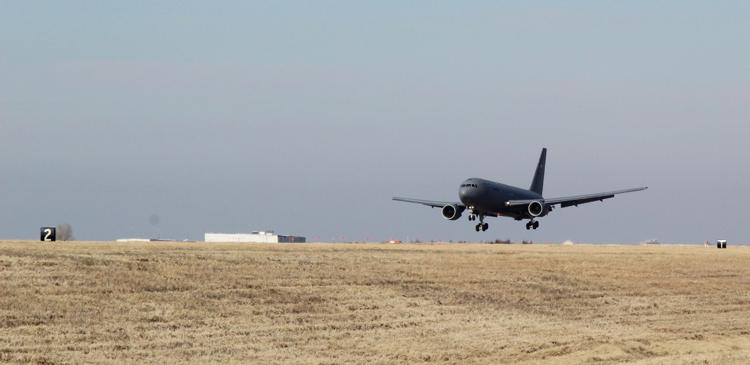 After years of development and delays, two KC-46A Pegasus tankers arrived at McConnell Air Force Base, bringing with them a face familiar to Derby.  
The aircraft arrived at a cold and windy Wichita around 2 p.m. after a flight from Everett, Washington, where Boeing assembles the tankers. 
"Thank you to the thousands of citizen airmen, families, friends, and civilians, who everyday balance work, family, and your civilian careers," said Lt. Col. Phil Heseltine at the arrival ceremony. "We could not do any of this without you."
Heseltine, a Derby resident, is commander of the reserve 931st Air Refueling Wing, one of three wings at McConnell. As a "total force installation," the base also houses the active-duty 22nd Air Refueling Wing and the Air National Guard's 184th Intelligence Wing.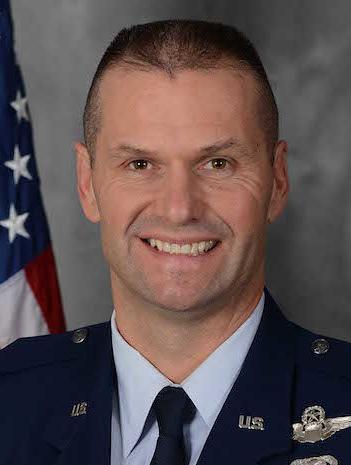 McConnell was the first base to receive the new tankers and is expected to receive two more during a weeklong period starting Jan. 28. There will then be a two-week pause as other bases, such as Altus Air Force Base in Oklahoma, receive KC-46s.
After the pause, approximately three aircraft will arrive each month until the first order of 18 is complete. McConnell expects to ultimately house 36 of the tankers.
The KC-46 was selected in 2011 to displace the Cold War-era KC-135, which officials say could remain in use until 2040 or longer. Both models are tankers, large aircraft that refuel others during flight.
Sixteen resources were built at McConnell last year in preparation for the new KC-46s, including a training fuselage. Construction costs for the resources totaled $267 million.
As tankers arrive, they have to go through a 75-day "familiarization period," Heseltine said. Following will be a six-month test and evaluation period, he said, in which area residents can expect to start seeing the planes above.
'Coming home'
Boeing executive Leanne Caret, a Derby native, flew to Wichita as part of an official party for the KC-46's arrival ceremony.
Caret, a Derby High graduate, became Boeing's CEO and president of defense, space and security in February 2016.
She earned a bachelor's in business administration from Kansas State University and has a master's in the same field from Wichita State University.  
"I grew up watching KC-135s flying around," Caret said. "It's perfectly fitting that the first KC-46 would end up coming home to McConnell."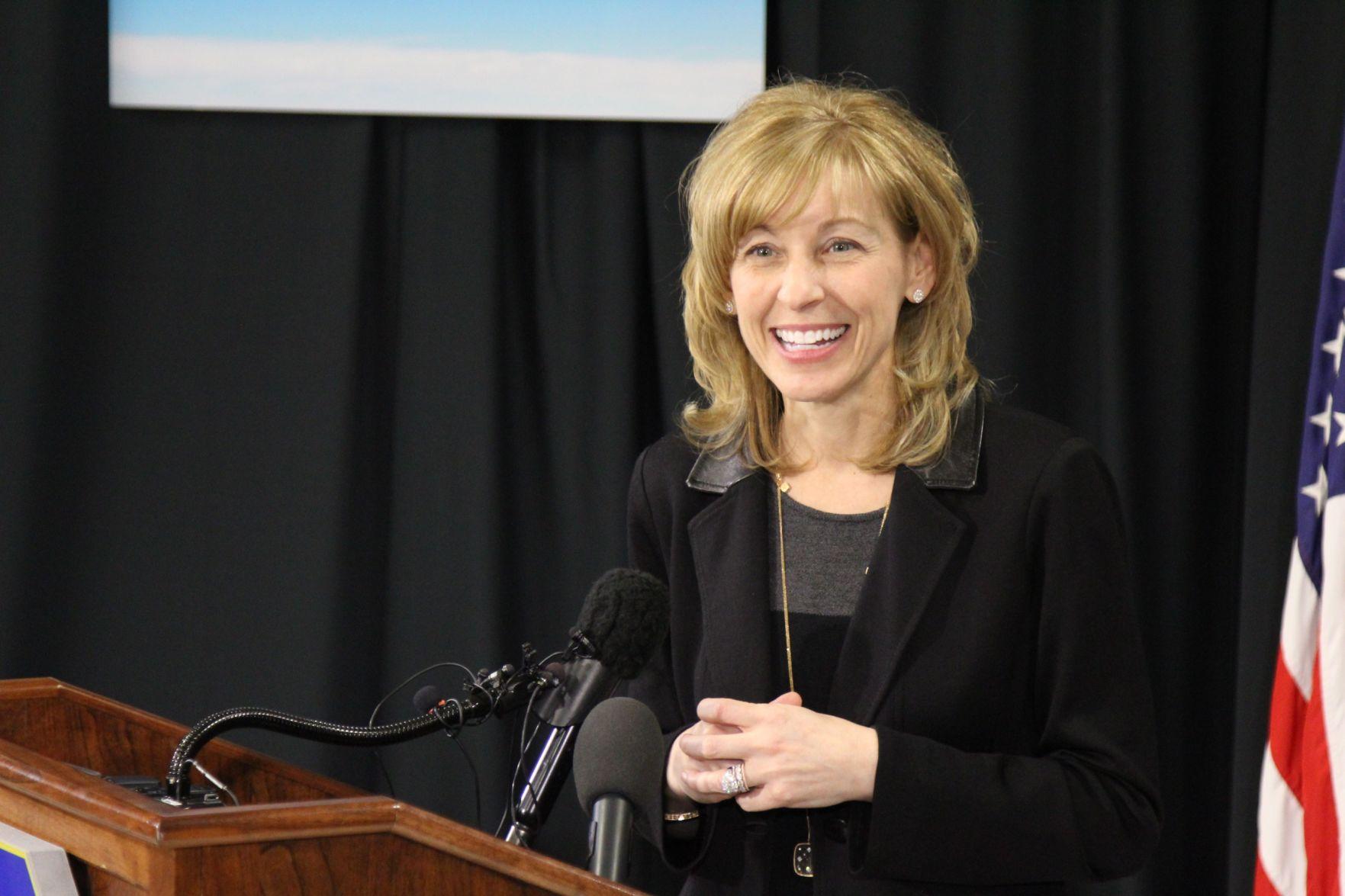 Speaking to a hangar full of McConnell personnel, staff, and community members, she expressed gratitude to the US Air Force for their partnership in developing the KC-46.
A few weeks prior, Caret said she sent a message to 150,000 Boeing employees sharing the news of the KC-46's then-approaching arrival date.
"I'd like to share a few [responses] with you today because there's no better way to convey what it means for us at Boeing and our supplier partners to deliver this aircraft than through the words of who built her," Caret said.
"A delivery operations manager wrote: please make sure the Air Force pilots flying my baby know how to take great care of them,'" she said.
"Of that, there is no doubt."
New potential, new problems   
The KC-46 is derived from Boeing's 767 commercial airframe. At just over 165 feet in length, the new tanker is longer and has a wider wingspan than the KC-135.
Besides greater dimensions, the new tanker also has a greater capacity for passengers, cargo, and fuel. The KC-46 holds 212,000 pounds of fuel, which is 12,500 more than the KC-135.
With increased ability to communicate and evacuate medical patients, the aircraft is often referred to by officials as "not just a tanker but a weapons system."
A key feature that sets the KC-46 apart from the KC-135 is its remote vision system, which utilizes cameras and sensors. The technology allows boom operators to sit in the cockpit with the rest of the crew, instead of at the rear as with traditional tankers.
Deficiencies have been detected in the system, but Boeing has agreed to pay to fix them.
Heather Wilson, secretary of the US Air Force, said one issue was related to a  "glint" in the tanker's cameras when it flies directly towards or away from the sun during bright sunlight.
"All they have to do, operationally, is just turn a little bit away from the sun. It's not that big of deal," Wilson said. "But think about this: The hardest time to tank is in the dark and in clouds. So when it's hardest to tank, this aircraft is actually better than what we currently have."
Officials have not stated when the aircraft will first operate in an active mission.