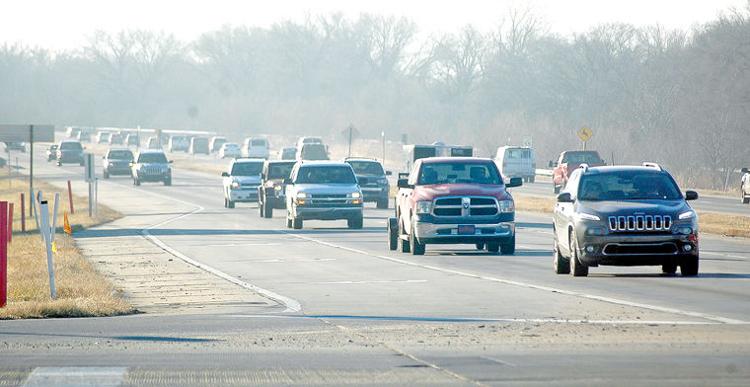 When Derby City Council members were asked at their Dec. 11 meeting about some of their prime transportation concerns, safety floated to the top of the list.
They had good reason to as it's becoming increasingly dangerous to be on area roads.
As the Wichita Area Metropolitan Planning Organization's own report bluntly put it: "Two of our three major safety statistics are getting worse." Vehicle fatalities, non-motorized fatalities and serious injures are on the increase.
Council member Jack Hezlep, an avid bicyclist, said area roads can be dangerous.
"If you go down Greenwich on a bike, you're taking your life in your hands," he said.
Hezlep suggested putting shoulders on such roads like they do in Texas and Colorado.
Member Cheryl Bannon also expressed safety concerns, especially dealing with distracted driving, and the way fatalities have increased.
Chris Upchurch, principal planner with WAMPO and who appeared at the meeting, admitted that "we need to double down on safety improvements."
"Maybe we got a little overconfident," he said. "And not hitting it as hard. We do know what works."
There are some physical components for increased safety, including the shoulders Hezlep mentioned, along with guardrails and striping, but a lot of it deals with education, he said.
Some of the current problem, he said, is that there was a decrease of driving during the Great Recession, especially among young males, who have the highest accident rates – but now that has climbed back.
In the safety regard, City Manager Kathy Sexton did reiterate that the city is working on it, including putting up signs reminding motorists to not drive while distracted.
WAMPO is the gatekeeper of federal funding for the area and its plan is called Reimagined Move 2040.
The WAMPO long-range plan has direct impacts on the local transportation system, which includes roads, bridges, bike paths, and transit.
It's designed to look at decision-making for the next 20 years, but Upchurch says as a working document, it will be updated and changed as needed.
However, during 2019 it will collect public review and comments for the plan before finalizing it in 2020.
Upchurch is asking for input through an online survey at www.publicinput.com/3568.
The questions include: "What should the region's transportation system of the future look like?" "Where is the region doing a good job?" "Where do we need to improve?" "Where should we cut back?"
The area has many transportation positives, Upchurch said, including little delay from congestion. Currently, it's 26 seconds of additional time during the afternoon rush hour and in the future, that should go up a bit, to 45 seconds.
There also is lots of capacity for future growth, although there are some "localized bottlenecks." That includes the north junction, or the highways on the north side of Wichita, which is scheduled for a major upgrade.
A lot of money is involved, WAMPO states, as there should be more than $6 billion in the area spent on transportation between 2015 and 2040.
But our overall growth is not high, at less than 1 percent and we have an aging population and a problem of educated young people leaving the area, Upchurch said.