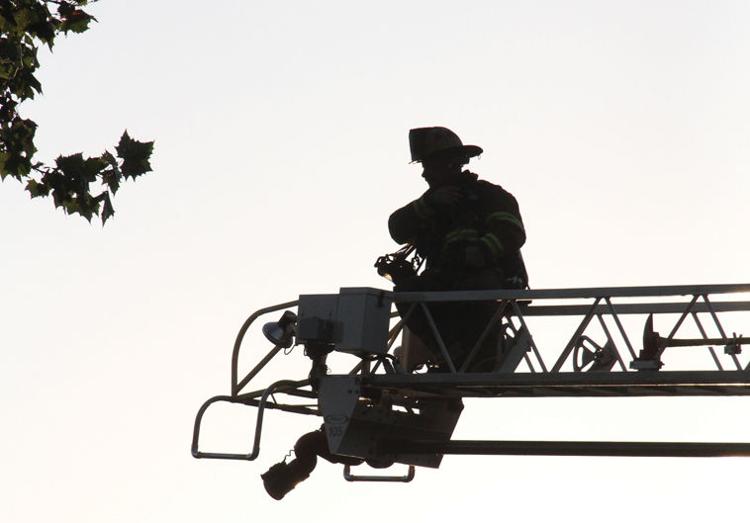 Derby's fire personnel had an active year in 2018, according to data submitted to the City Council by Fire Chief Brad Smith in his annual report. While last year was not as busy as 2016, which showed a spike in calls during the past years, total calls were up from the 2013-14 time frame.
Calls last year numbered 2,192, up from 2,117 in 2017. However, there were 2,469 calls reported in 2016.
A major reason for the change, Smith said, is that back in 2016, the department was answering all calls, even when it should have been an EMS ambulance.
"We were just burning up Rock Road and K-15 continuously going to what seemed like not very serious calls," he said.
DFD officials talked with county staff and other departments and came up with a better way of responding so resources weren't being wasted.
"It sure made a big difference," Smith said of the policy change.
The highest visibility calls, of course, are building fires. Last year, there were 40, about the same as 2017, but up from 31 in 2016.
Vehicle fires remain about the same level at 12, as did motor vehicle accidents calls with 107. That number has varied from 99 to 118 per year from 2013 to 2018.
Smith, like other fire professionals, has long noted that the field has shifted during past decades from responding to blazes to more medical calls.
That's because better codes and safety measures within buildings have reduced the number of structure fires. At the same time, an aging population has meant more medical calls.
Like other departments, Derby's is on the front line of emergency medical situations and often responds before an ambulance can. Sedgwick County provides the ambulance service.
In 2018, there were 1,364 medical responses, up slightly from the 1,350 in 2017. That overall number has been in the 1,350 to 1,666 range during the past six years.
Smith has repeatedly stressed the need to be able to get to a scene within four minutes, which is a professional goal time. Of course, it's not always possible, but the objective is to make it there in that time frame 90 percent of the time.
The department hit 88.8 percent, down a bit from 90.1 percent last year, but up significantly from 81.7 percent in 2013.
"We're not real happy, but that happens," Smith said of the time decline. "That's a goal for us to get back up."
He didn't have a reason as to why the response times were slightly longer.
The department conducted 46 fire investigations. It determined that 27 fires were unintentional, 10 were due to equipment failure, such as space heaters. Six were undetermined and three were intentional.
Other community activities
It also undertook 390 annual fire inspections and 21 fire protection and sprinkler reviews for new businesses. In addition, staff flushed and inspected 666 fire hydrants.
Other activities included fire safety training and demonstrations, station tours and community activities, such as open house, being in a parade and taking part in a blood drive.
Derby also has taken a major role in helping out Sedgwick County firefighters under its mutual aid agreement, responding to 276 county calls. In return, the county came to help in Derby 65 times. It also has a similar agreement with McConnell Air Force Base, Mulvane, Rose Hill and Wichita, although those calls are less frequent.
Among the year's highlights, Smith said, was successfully completing a Homeland Security grant for a rescue boat. Boats also went to Hutchinson and Sedgwick County. Smith created a position for a part-time shelter coordinator. Also, all the district's schools received a safety inspection.