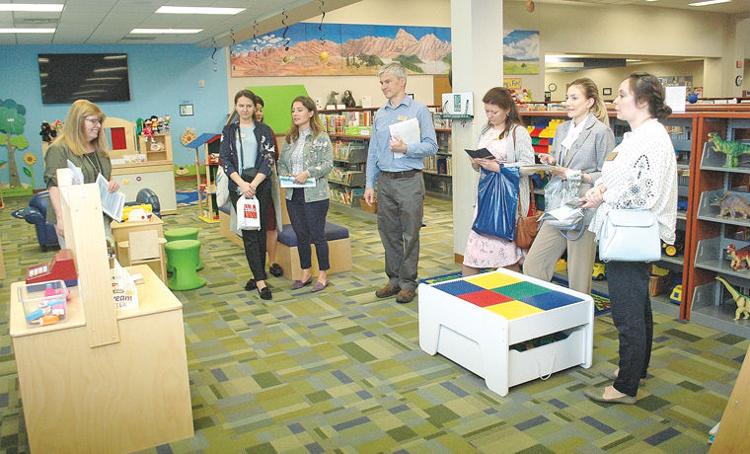 Derby is 5,455 miles away from Moscow, but that vast distance recently got a little closer – at least from a cultural and personal perspective. That's because a group of five Russian children's librarians included Derby in their area visit, which was from April 26 to May 3.
Group members spoke at the Friday meeting of the Rotary Club of Derby and one of them stayed with Robert Mendoza and his wife, Kelly. Mendoza is a past district governor of Rotary and public works director for Derby.
At the meeting, each gave a brief background on their hometown and their work with child and youth literacy. Afterwards, they went on a tour of the Derby library. Director Eric Gustafson said it was a beneficial visit and a good exchange of ideas. They've had other groups of visitors before, but the group from Russia was a first.
"This is really cool," he said as he observed the group being hosted by Carrie Fry, Derby library youth services coordinator. Group members took in the children's area resources, one playing with some puppets and another with a costume cape – and both with big smiles.
Rotary member Katie Dawes said it was a worthwhile presentation especially since both the visitors and the club members can learn from each other's culture.
Olga Perekhodtseva, international projects coordinator with the Russian State Children's Library in Moscow, called the visit time well spent and it helped her both professionally and personally.
"It was very beneficial," she said.
Group new to the U.S.
It was Perekhodtseva's first visit to the United States, along with everyone in her group as being a new visitor was one of the program's requirements. The group also was from a wide geographic range across the country, so that its participants could carry their knowledge back to the most people possible.
Perekhodtseva spoke fluent English and the rest of the group used the services of an interpreter who accompanied them on the trip, which started with a visit to the Library of Congress before heading to Wichita.
She was impressed with all the technology in the libraries she toured, including the new downtown Wichita location. They also got to see some things not related to libraries, including visiting a courtroom and talking with a judge.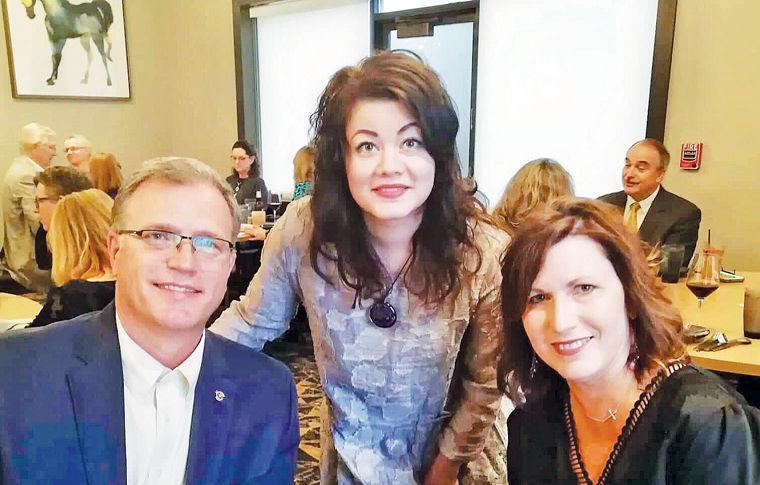 Mendoza, who hosted Perekhodtseva, said he and his wife couldn't be happier with the experience.
"We had the opportunity to spend a week with an educated, dedicated and artistic young woman," he said. "We were thrilled to share Derby with her and let her experience a busy and engaged community."
Visitor pleased with city's green spaces
While here, Perekhodtseva visited and loved the Spring into Art event and purchased photos of Derby from local photographer Bill Fales.
In contrast to her life in Moscow, she was happy to be around all of the green grass and trees, Mendoza said. Because of its large population, Moscow has little private green space, he said.
Mendoza said the experience resulted in making new friends and creating "wonderful memories," and he would encourage others to be open to hosting in the future if they have the chance.
DeAnn Sullivan with the Rotary Club of West Wichita called the five visitors "a really good group."
On a broader scale, the club members also are interested in world peace. Communicating on a one-on-one grassroots level is one way the ordinary person can help in that effort, she said.
"This is not about our leaders, this is about us," she said.
Building a more peaceful world
Meeting someone from another country and getting to know them is an ideal way for common citizens to work to establish a more peaceful world, she said.
"It's hard to hate someone close up," Sullivan said.
Along with Perekhodtseva, the group consisted of Daria Gerasimchuk, a resource specialist from Kemerovo; Yelena Ismaylova, head of the teens and parents department, Belgorod; Yulia Leushina, a lead librarian from Murmansk; and Marina Panasiuk, head of preschoolers, Samara.
Also along were Alonya Vladova, their interpreter; and Sergei Ibragimov, a facilitator from Moscow.
Along with local libraries, the group toured the Fundamental Learning Center, Heartspring, and traveled to Topeka to visit Topeka Shawnee County Library along with the State of Kansas Library.
The tour was under the sponsorship of the Open World program, which is funded by the U.S. government.
More than 28,000 current and future leaders from post-Soviet era countries have participated in the Open World program.
Officials say that Open World offers "one of the most effective U.S. exchange programs to promote mutually beneficial options for depolarized engagement between future national leaders."