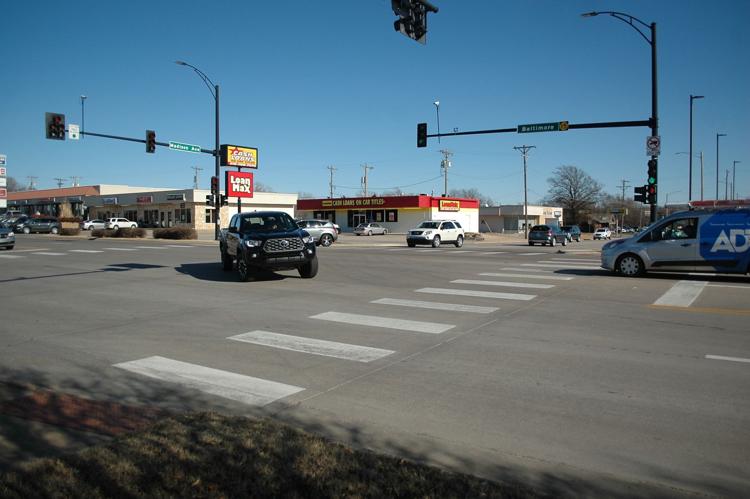 John Nichols has a wish for the new year: a safe future for pedestrians and bicyclists at Derby's intersections.
Nichols, who has lived here since 1989 and is a retired DHS German teacher, was hit and seriously injured last summer while crossing from the southwest to the southeast corner of Baltimore and Madison.
He was in the crosswalk with his bicycle and the vehicle that hit him was turning south from the westbound lane.
"A witness said I was thrown five feet into the air," he said.
Nichols did have his helmet on. The bicycle was a total wreck.
At the time, he thought he had gotten away with lacerations and cuts, but because of continued pain, he later had an MRI that showed his neck compressing into his spinal cord.
Nichols had further treatment and went into physical therapy. Because of his injuries, he now can't drive.
He noted that he was not alone with issues at that intersection, as several weeks later a woman and young girl were hit there and had to be transported to the hospital.
Derby police say they want to see the city be safer for everyone, including pedestrians and bicyclists who can be vulnerable on local roads.
In 2019, there were 11 incidents with 15 people involved, said Deputy Police Chief Brandon Russell, up from six people involved in 2018. In 2017, there were 11, according to the department's annual report.
"We'd like to see the number be zero, but that's not a realistic goal," he said.
Russell did add that the 2019 number is affected by the fact that there were cases in which people in parked cars were hit.
Under reporting standards, they're counted as pedestrians, not motorists.
"If you take out the people involved in the parked cars, we're not a lot higher," he said.
There also were three bicycle accidents included in that number. While there have been injuries, none of the incidents resulted in a fatality. And no pedestrians have been killed.
In that regard, Derby is doing better than other locales.
Overall increase in pedestrian accidents
The Governors Highway Safety Association, which tracks such numbers based on figures from state highway safety offices, reports that being a pedestrian has become more dangerous nationwide. 
Last year's numbers are not yet available, but in 2018, the group placed pedestrian deaths at an estimated 6,227, an increase of 250 from 2017 and the highest level since 1990. Kansas also recorded an increase, according to the group's data.
Since 2008, pedestrian fatalities have climbed by 41 percent and now account for 16 percent of all traffic deaths.
"The alarm bells continue to sound on this issue," Executive Director Jonathan Adkins said in a release about the rising number of people hit and killed by vehicles. He said the trend needs to be reversed.
There are numerous reasons for the uptick, he said, including more SUVs on the road, which are bigger and heavier, making an accident deadlier. Also, with the lower cost of gas and a robust economy, people are driving more, leading to more incidents.
Then there's another cause: distracted driving. Drivers on their cell phones are simply not focused on the road like they should be, authorities say.
That issue has caught the attention of city officials here, who have put up signs around town warning against distracted driving. Derby police also have had crackdowns against the practice.
Russell said police are working hard on safety, including teaching youngsters safe practices near and on roadways.
While Nichols said he believes that Baltimore and Madison is especially bad, Russell said he doesn't think any one intersection is more dangerous than another.
"We have some that are busier than others," he said.
But at any intersection, all parties need to be "on the lookout," he said.
It gets extra complex at crosswalks across four lanes of traffic. Drivers don't necessary have to stop if the pedestrian is in the far side of the crosswalk, he said, but do as they get closer.
Both parties have to strive for safety, Russell said. Pedestrians who are not in crosswalks simply can't step into a road and expect vehicles to come to a stop, he said.
"There has to be some common sense," he said.
Increasing visibility for safety
Vehicles and their drivers are not always at fault, as Russell recalls a case in which a bicyclist hit a car.
Also, Russell said drivers may be dealing with outside factors, such as a low-angle sun right in their field of vision, making it impossible to spot someone at an intersection.
For bicyclists, Russell said being seen is a major safety step and suggests they wear highly visible clothing, including reflector vests if possible. And everyone should be more alert in pre- and post-school hours when it's busier, he said.
For his part, Nichols said he's extra cautious while crossing a road, including working to make eye contact with drivers so they know he's there.
It doesn't always work.
He also had an incident a little to the south, at Baltimore and Market, when a vehicle turned from westbound Market south on Baltimore. He made eye contact with the driver and the driver saw him, too.
However, it was to no avail.
"He turned without ever recognizing me as having the right of way," Nichols said.
At the intersection where he was hit, Nichols said it would be helpful if there was a dedicated light for east-west Madison traffic making turns like there is for south-north traffic.
Nichols has made his concerns known to city officials and the City Council, but also said he knows that it's up to individual drivers to police themselves, follow the rules of the road and drive as safely as they can.
The police, Russell said, will do what they can to get Derby's accident numbers, including those affecting pedestrians and bicyclists, as low as possible through education and enforcement, but given the amount of people moving about on Derby's streets and human nature being what it is, there likely will be some incidents.
"As long as we keep them at the minimum that we possibly can, we're happy," he said.