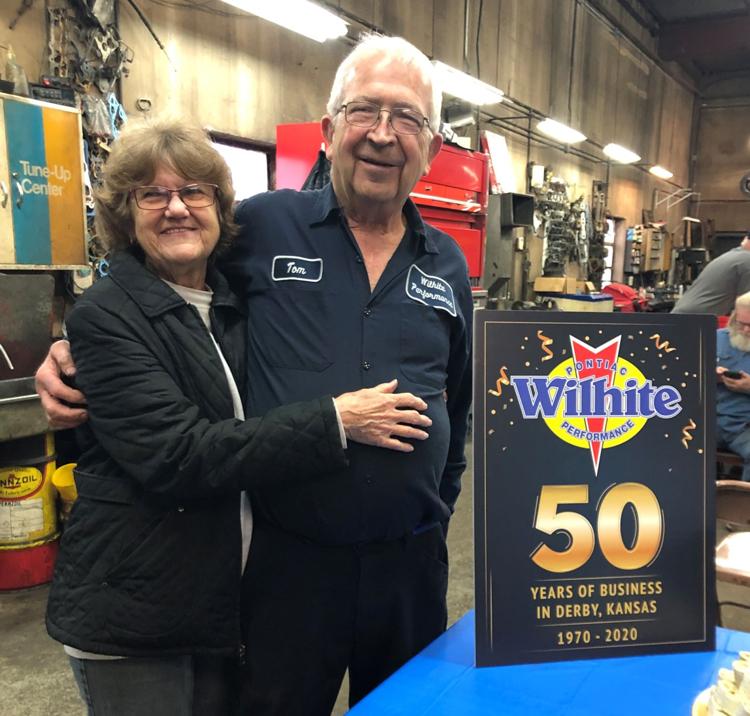 At age 73, at a time when many people are either retired or near it, Tom Wilhite is still at work, running his auto repair business – just like he has for the past 50 years.
Wilhite, owner and operator of Wilhite Auto at 200 W. Washington, plans to keep putting in his 11-hour days for as long as he can.
"I'm going to retire when my health tells me I have to," he said.
He doesn't work because he has to, but because he loves working on cars.
"I enjoy it or I would have quit a long time ago," he said.
As part of his 50 years of business, Wilhite held a mixer Jan. 23 with the Derby Chamber of Commerce, fellow Rotarians and community members. He's been a long-time member of the Chamber and Derby Rotary, along with the Better Business Bureau. He's well-known for his straight talking, even brash, manner.
"I'm not bashful," he said, "especially when something ought to be brought to light. I'll speak up and ask, 'Hey, what about this?'"
As he put it: "I'm well-known for asking questions."
He did run for City Council last year in Ward 4, but lost that bid.
Other than speaking out, Wilhite stays busy with his repair jobs. Reflecting on a half century of work, he credits his clients.
"I have a lot of good customers," he said, "and appreciate their loyalty."
His business rules are pretty simple: "Treat people like I want to be treated –fairly."
He also believes in pricing his service and products correctly.
"I don't give anything away, but don't hold anyone up either," he said. "I've got to make enough money to keep the doors open."
Wilhite doesn't believe in discounting his work and said providing quality service has won out in the long run.
He can't compete against the big box retailers – and doesn't try.
Wilhite believes he likely has the oldest Derby business still run by the same owner. There may be other, older businesses, but they've changed hands or management, he believes.
Carving out a market niche
In order to survive for so long, he's had to change with market conditions.
One way he's done that is to carve out a market niche as a high performance auto repair business, taking cars with factory parts and upgrading them. He also has worked on a lot of classic cars that appear regularly at local car shows.
Cars have changed much since the 1970s with higher quality, and the business isn't as lucrative as it used to be, he said.
"It's not uncommon to have a car with 150,000 miles with just a few service jobs on it," he said.
Also, new car buyers often take out an extended warranty, which cuts into his business.
Wilhite works on all makes and models but stays away from European vehicles, which he said aren't worth the investment in different tools.
Although he's had as many as three employees at one time, he now has one, Mike Pierson, who has 30 years' experience, 15 of those with Wilhite.
"I didn't make as much money with three and had a lot more headaches," he said.
During the years, he estimates he's had about two dozen employees come and go, but he maintained good relationships with all of them.
A lifetime in the auto business
Originally from Yates Center, Wilhite got an early taste of the trade as his parents ran an auto repair business. He started out sweeping the shop floor and was fixing small engines at 11.
"I grew up in the shop," he said.
He continued his passion for working on all things automotive and attended the GM training center. At 20, he moved to Wichita, worked briefly at Boeing, and then decided at age 23 that it was time to go out on his own.
He hasn't looked back.
Wilhite opened a shop in Derby at K-15 and Meadowlark and was there until he moved to his current location in October 1977. The site has worked out well, he said, even if it is almost on the railroad tracks, making it tough to talk when a train goes by.
Reflecting on the past 50 years, Wilhite said it has been a successful career, and when the time comes to slow down and retire, he will rent the business out or sell it.
"I'm not rich, but I've made a good living," he said.