On the count of 3, 2, 1, they grabbed their shovels – the students' painted primary colors, the adults' gold – and turned ceremonial dirt at the site of Derby Public Schools' newest elementary school.
The March 22 groundbreaking, under sunny skies, gave the district a chance to thank voters for supporting a $114 million bond issue last year.
"Our dreams are truly taking flight," said Sandy Rusher, who will serve as principal at Stone Creek, which is expected to open for the 2020-21 school year.
With the school mascot the Jets, the event took a decidedly eyes-toward-the-skies feel with officials lauding the new learning opportunities the 82,000-square-foot building will afford students.
"I am beyond excited to start teaming with staff members who are open to trying new collaboration styles, working to meet students where they are, to find a pathway that leads them to success," Rusher said, adding later that "Stone Creek will have a unique and creative learning environment that will be enriched through technology."
Superintendent Heather Bohaty praised Rusher, the current principal at Park Hill Elementary, for her vision for Stone Creek.
"Leading up to today, Sandy should be commended for the countless hours she's put into facilitating groups, being hands-on with the detailed design elements of the building and making sure this facility is well-thought-out for our students and community for years to come."
Pleasantview fifth-grader Emily Bahruth, who served on the naming, mascot and color committee for the school, was the smallest speaker in stature but not in community voice.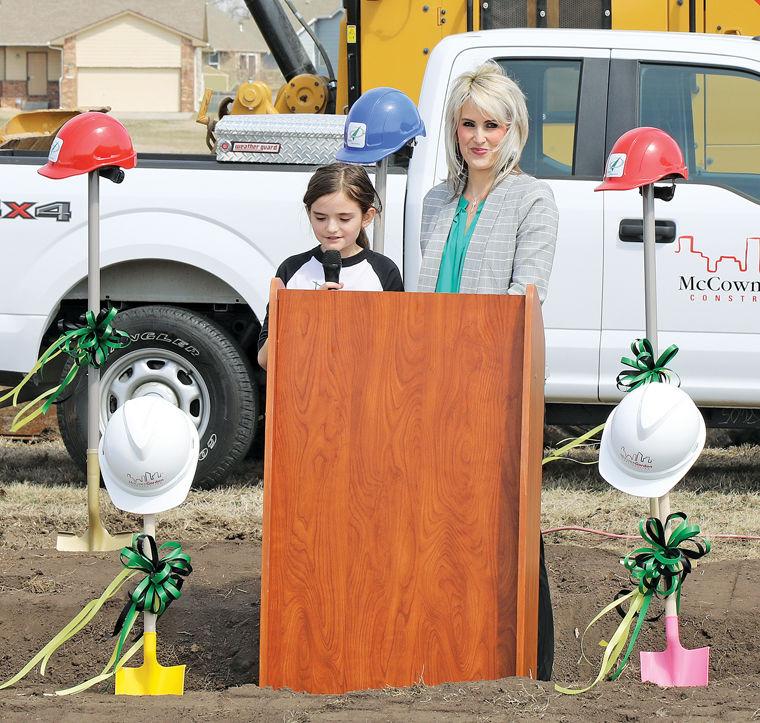 "It was exciting to meet in our committee group and make a big decision," she said. "We would like to officially welcome Stone Creek Elementary to Derby Public Schools."
The school will feature new safety and security measures, a major selling point of the bond issue. School board members earlier this month approved a guaranteed maximum price of $18,904,175, the most the district can be billed for the project without a change order.
Stone Creek will offer four classrooms per grade, 10 resource classrooms and two media hubs as well as "dream rooms" that will double as safe spaces where students and teachers can hide if necessary. The school will have one storm shelter to house everyone in one location. The space will double as a community shelter.
Shannon Bohm, president of SJCF Architecture, said the firm has "opportunity to work on many different types of buildings. But we really enjoy working on schools, particularly elementary schools because we have the opportunity to enhance learning for future generations."
School board president Tina Prunier told the crowd the district looks forward to seeing people at the school "when we cut the ribbon."
"Let's turn some dirt and go Jets," said Mitch Binns of McCownGordon, which is managing all construction projects for the district.