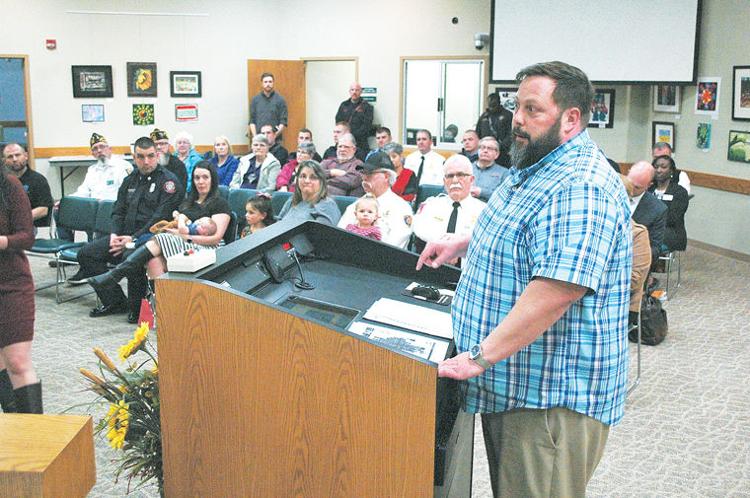 A plan by the city to sell a small parcel of north Derby land that was originally designed for a park has been stopped.
At its March 12 meeting, the City Council approved a recommendation by City Manager Kathy Sexton to rescind the proposal and instead allow her and the staff to undertake terms of a land sale with the Parkside HOA and USD 260.
At issue is 1.77 acres in the Stone Creek Addition known as Reserve S or Winding Lane Park.
Last month, the council authorized city staff to seek a sale of that land, which has been undeveloped space since 1999, in order to open it to more housing.
The thinking was that since then, the city's park thrust has moved from small, neighborhood parks to larger parks, such as High, Central and Warren Riverview.
However, two weeks after the Feb. 12 action, Stone Creek residents let city officials and the council know that many of them opposed the proposal. Representatives of Parkside HOA said they would like to acquire the land.
There have been two meetings with HOA members since then, but Sexton said more time is needed before final action can be reached.
The school district is involved because it is next to the property in which a new elementary school is set to be built starting later this month.
There was no protest from council members about the change in direction and many expressed pleasure that the residents' concerns were quickly addressed.
Several residents at the meeting also were satisfied that there's a new future for the parcel.
Paul Northey, who lives about 200 yards from the land, said making it a park has "always been part of the plan."
"That's what we all assumed was going to happen," he said.
There's also an ethical aspect to the issue, he said, as the developer turned the land over to the city, as required, but with the intent of a park going in there. Then the city wanted to sell it, which Northey said wasn't right.
"I have a hard time with that," he said.
Northey and his wife, who have two children, moved to Stone Creek in 2014.
First step was stopping a sale
As weather permits, his wife takes the children to a city park for exercise.
"It's been great but we have to travel to go to a park," he said. "They would like one close by."
Christina Witten, treasurer of the HOA, said "we're real happy" with the turn of events.
"The first step was stopping the sale," she said. "This is going to buy us some time."
The city had pitched a land sale of about $160,000 for housing, but Witten said that's not the price range her HOA could work with.
However, they could manage a lower price point and have the funds to maintain it, including mowing the grass.
Ideally, they would like the city to gift the land to the HOA and then have the organization develop it. Witten envisions at least trees and picnic tables on the property.
"There is no shade there at all," she said.
Like Northey, Witten said homeowners bought into the development thinking there would be a park in their neighborhood.
"That was the number one question we got: 'when are you going to put in a park?'" she said.
They also bought in the area because of a new school.
"There's an expectation that certain things are going to happen," she said.
While the HOA could own and operate the park, Witten said it would be reasonable about its access and there would not likely be a fence around it unless vandalism was an issue. For practical purposes, most park patrons would be local residents, but the HOA is likely not going to be enforcing a residents-only rule.
But such policies will be taken on later.
"Nothing is decided yet," she said.
Witten did say there was a "communication failure" between the HOA and the city regarding the land and its future and officials from both organizations did not connect properly to stop the land sale proposal.
But the fact is, people did jump into the process and a new route will be taken.
"We're pleased with the change of the course of events," she said. "It's awesome."