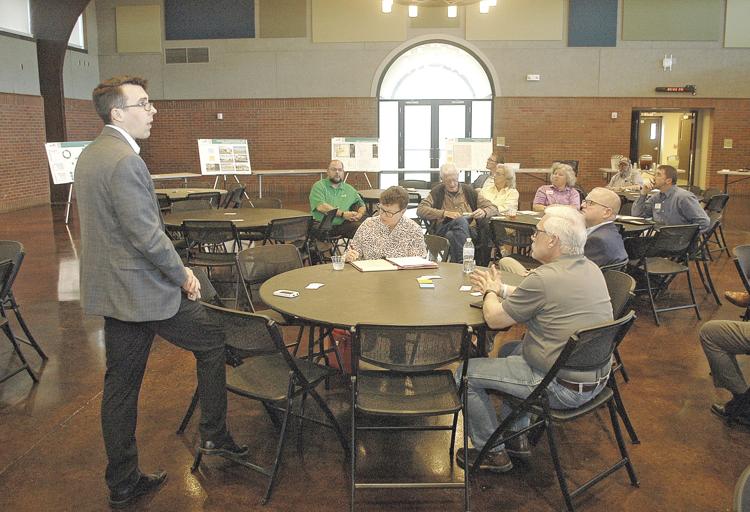 The planning of the city's future continues. The next event in the Vision Derby 2040 process is what is known as the "design studios" and will be facilitated by city staff and urban planners from RDG Planning and Design, which is handling the project.
At the event, participants may have their ideas drawn up and designed for what is being called "the roadmap for the next 20 years."
There will be a series of design studio meetings in September at The Venue at Madison Avenue Central Park.
The times are from 4 to 6 p.m. Sept. 10, 11 a.m. to 1 p.m. and 4 to 6 p.m. on Sept. 11, and 11 a.m. to 1 p.m. on Sept. 12.
Officials say it's an interactive way for Derby residents to look at preliminary concepts and share their feedback on how to retain residents, attract new people and grow businesses in a city that is closing in on having a population of 25,000.
City officials are seeking a lot of involvement from the public, said Dan Squires, the city's director of planning and engineering.
"Don't let somebody else decide what your vision of the city of Derby is. Come tell us what it is and let us craft a vision to try and get there," he said.
The goals include:
•Create a policy plan that sets out the city's future direction.
•Guide growth and future land use.
•Identify projects and ideas that maintain and improve the quality of life.
•Address issues related to housing, corridors, and the community image.
•Develop an implementation strategy for both short- and long-term needs.
Mixed-use development a topic
While there have been some events about the plan in the past, mostly dealing with general questions, now it's time to get concrete concepts down. Planners will be refining those concepts in real time, and there will be more guidance on what the final product should look like.
One of the main things is mixed-use development, combining residential development and assets such as shopping, dining and services.
With current zoning, the city doesn't have a good technique for doing that, Squires said.
Mixing uses is a trend among cities nationwide, he said, and is becoming more important as the demographics show an aging population and less reliance on vehicles.
The city also has a walkability plan, a piece of the overall Vision Derby 2040 comprehensive plan, which is a "much larger umbrella," he said.
Officials were ready to undertake the sessions like the upcoming ones a month ago, but it didn't make sense during the summer when school is out and many people are on vacation.
"We will get more engagement now," Squires said.
Most other cities have comprehensive plans and while Derby has one, too, it's from 2006 and "we're in a different world now," he said.
"Derby has changed tremendously in that time," he said. "It's important that we update it. This is the road map of Derby for the future and we need to develop a vision for what the next 10, 15 and 20 years look like and how we're going to get there."
There's been a lot of population increase and resource growth, such as new parks, service businesses and eateries since then.
"Back in 2006, there were hardly any sit-down dining places," he said.
Squires said citizens are not just welcome to show up, they – and their opinions – are needed. Those who do come will make their voices heard.
"It's like voting," he said. "You don't have to vote but it's hard to complain if you didn't go through the effort."
Later this year, there will be a final public open house to unveil plan recommendations.
For more project updates, go to VisionDerby.com.