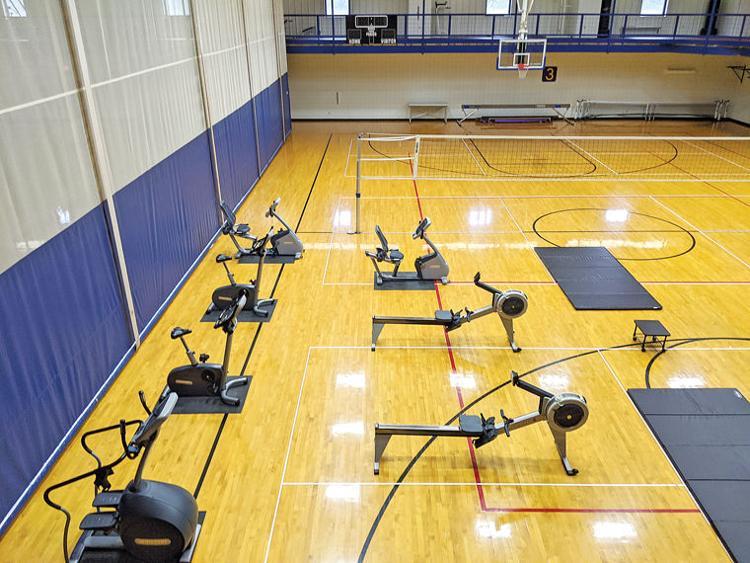 The Derby Recreation Commission moved one step closer to reopening.
The DRC board unanimously approved its four-phase recovery plan for reopening at its May 12 meeting. The plan includes four phases, which officially began on May 4. However, the first step to the opening phase was full-time staff returning to work with modified schedules on Wednesday, May 13.
Customers can return to the DRC on May 26 with all amenities except fitness studios. Little activities will be implemented. Summer program registration will also open that day, but these will be conducted online indefinitely. That won't include Recreation Station due to in-person information needed from participants.
Derby Recreation Commission superintendent Chris Drum also said of the above and additional phases are subject to change, depending on changes made by Governor Laura Kelly.
Drum said the DRC has more to get done before it can reopen its doors.
"There's a number of things, including not knowing if Phase 2 will be progressed [on time]," Drum said. "… We also have a number of staff that we have to get back, including part-time staff. They are vital to our operations."
Temperatures will be taken for all staff and customers at the front door. Two readings of 100.4 or higher will prohibit admission to the facility.
Drum said that staff will
be made aware of personal protection equipment requirements, while others will be encouraged to use it when appropriate. Sneeze guards will be in place and distancing markers will be placed on the floor to encourage social distancing.
"We'll do [temperature readings] at the front doors …," Drum said. "That staff person will
be protected and there would be some recording that we'd need to do [in the event of a fever] to provide them with information."
The DRC will be posting signs that request guests clean equipment they use before and after their workouts.
Drum said they'll discourage use of locker rooms to only when necessary, including only using showers to rinse before the pool.
From Monday through Friday, the DRC will also break off its usual Kids Club opening of 8:00 a.m. to 8:00 p.m. from 1:00 to 3:00 p.m.
Only personal basketballs will be allowed inside the gymnasium and bleacher use will also be limited.
Swim lessons will not begin until June 29 due to American Red Cross and CDC recommendations.
"We feel [by that time] that we'll have updated information that perhaps can be implemented to that instruction," Drum added.
The recreation center has also cut studio capacity for fitness classes. Cancellations include the JustTri Youth Triathlon and Summer Theater at Camp Center Stage. Postponed events include Let's DiaBeat This Health Expo, Community Baby Shower, Oaklawn National Night Out and the Hubbard Arts Center Grand Opening.
DRC RECOVERY PLAN FOR REOPENING
PHASE 1 begins Monday, May 4
May 13 … full-time staff returns to work with modified "at work" schedules
PHASE 2 begins Monday, May 18
May 18 … Summer program guide release, virtual only (subject to change)
May 26 … Reopens with all amenities open, excluding fitness studios. Limited activities implemented
May 26 … Summer program registration begins for all programs – online only indefinitely, excluding Recreation Station.
PHASE 3 begins Monday, June 1
June 1 … Fitness classes resume at DRC with opening of fitness studios
June 1 ... Kid's Club opens. Modified hours for extra cleaning.
June 1 … Rock River Rapids anticipated opening date with revised operations implemented
June 8 … Recreation Station begins at the Hubbard Arts Center
PHASE 4 begins Monday, June 15
June 15… Summer programs begin, per modified eight-week schedule, excluding select sports and aquatic programs (i.e., leagues and swim lessons)
June 17 … Sports programs begin with progressive start dates occurring per sport
June 29 … Swim lessons begin with modified session schedule