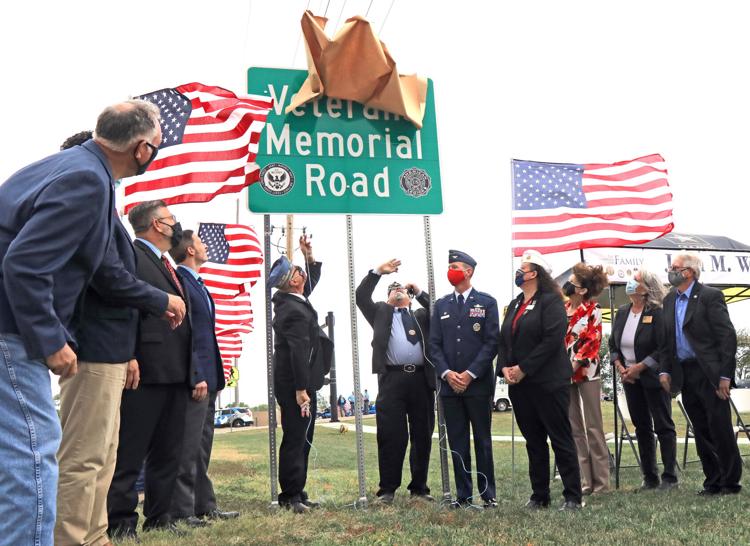 In the eyes of Derby Mayor Randy White, the events of this past weekend should have transpired years ago. In some ways, he was surprised it hadn't.
A long time coming, the four and a half mile stretch of Rock Road from the north city limits of Derby (west of Derby North Middle School) to the south city limits of Wichita (just north of McConnell Air Force Base) was officially dedicated as Veterans Memorial Road on Oct. 3 – a joint effort of American Legion Post 408 (Derby/Haysville), the city of Derby and Sedgwick County.
Over the past year, American Legion Post 408 took charge of efforts to bring Veterans Memorial Road to fruition, starting with approaching the Derby City Council and Sedgwick County Commission. Staying on task, the post's efforts to realize the road dedication were highlighted at Saturday's ceremony.
Kansas American Legion Commander Marri Krupco noted American Legion Post 408's work exemplified the ideals of the Legion family, while White noted it was par for the course for the local branch.
"I am so proud of our American Legion family," White said. "When they get an idea, you better get out of the way because it's going to happen."
Guest speaker and county commissioner for the fifth district (including Derby) Jim Howell also commended the Legion post for bringing about the road dedication, while also highlighting the efforts of the county's Public Works department to design and install the signs.
Howell admitted he was a little nervous on Saturday and drove north on Rock Road from Derby to make sure the second sign (by McConnell's main gate for southbound traffic) was in place prior to the ceremony.
With those signs in place though, Howell noted it will give citizens of Derby, Wichita and Sedgwick County a chance to remember veterans outside of designated holidays and on a more continual basis.
"They will serve as daily reminders to us all, as we recognize and remember military veterans who have given themselves to secure and defend the freedoms we all enjoy," Howell said. "It is always good to say thank you and we remember you for what you did."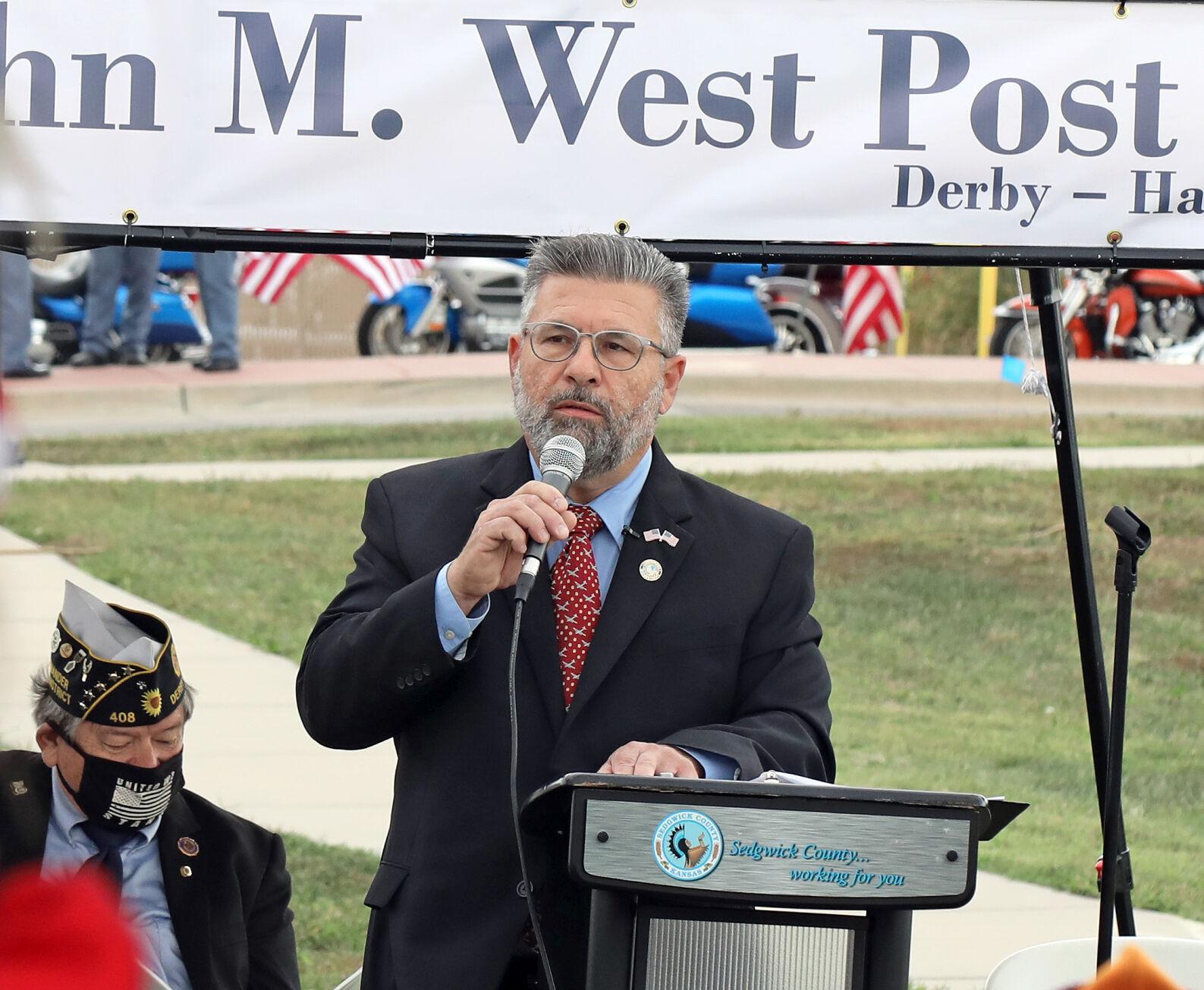 Both Howell and White spoke to the strong relationships the Derby and Wichita community have with veterans, which was another reason the dedication of Veterans Memorial Road made sense.
A veteran of the Air Force himself, Howell noted he was not always welcome in the communities in which he served, but Wichita and Derby are not like that.
"Over the years, especially in recent years, I have heard that this community is a little bit different – different in a good way actually. I know many military retirees who have chosen to stay here or return to this great community when they get to settle down wherever they want to live. Why is that? I hope it's because this community seems to appreciate our military members perhaps more than other communities. I'm very glad that is being realized," Howell said. "They are the very best citizens and they elevate us all. What more can we do to help our veterans feel welcome and appreciated?"
Veterans Memorial Road was dedicated to remember those who have served in the past, as well as those serving in the present and future, and will also be one of the first designations in the country to honor the newly formed sixth branch of the military – the U.S. Space Force.
Given the impact of those who served and have served at McConnell Air Force Base, the significance of the road dedication was not lost on the communities involved. Especially now it is no small thing, according to Howell, and the military community feels the same way.
"I imagine when I drive by this sign each day I will be reminded of a better perspective," Howell said. "I will say a little prayer of thanksgiving for our veterans. I will remind myself that I have been abundantly blessed to live in this free country that was secured with sacrifice and blood."
"This moment means the world to us," said Col. Robert Kelly, commander of the 22nd Mission Support Group out of McConnell. "To know that what we do each and every day is recognized and that the community we work and live in cares about our service each and every day, we can't say thank you enough for this moment."