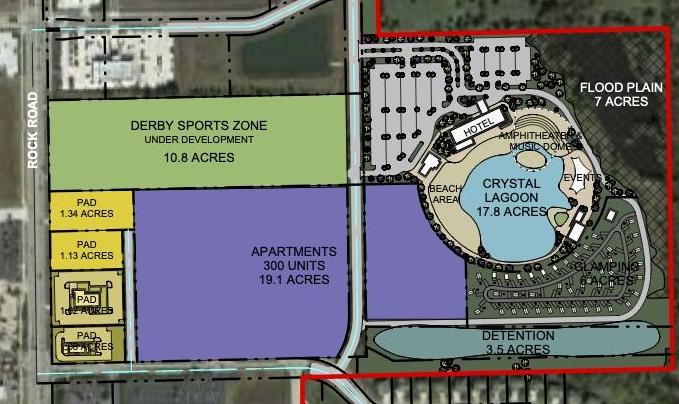 The Derby City Council had a captive audience at its Oct. 26 meeting, as the city hall lobby was full of local residents on hand for a public hearing regarding the expansion of the Derby STAR bond district.
As noted by staff, the vote at hand was simply to expand the boundaries of the current STAR bond district to include a nearly 44-acre tract of land east of the Derby Sports Zone site (and northeast of the Target store on Tall Tree Road). The vote did not include approval of the proposed project itself, which would feature a Crystal Lagoons man-made beachfront attraction, 150-room hotel, glamping ("glamorous camping") site and more.
With that in mind, the council voted 6-2 (members Tom Keil and Rocky Cornejo were opposed) to approve expansion of the STAR bond district. While the proposed project was not voted on, the council heard many concerns from Derby citizens during a public hearing – and voiced some trepidation themselves.
Public concerns
Many residents speaking during the public hearing were from the Tall Tree neighborhood abutting the proposed project site, with their sentiments sharing a common theme – concerns over safety and privacy if the proposed development is approved.
Currently, project plans show some of the 300 proposed apartments and the glamping site being constructed just north of some of the homes along Tall Tree Road. Several residents wanted to make sure there would be proper screening from the amenities (to allow privacy), substantial fencing to separate the areas (and prevent kids from getting in) and a traffic study ahead of future construction – to address issues foreseen with opening a tourist attraction near a residential area.
"Regardless of what you put in, I think it does need to be considered that it's backed up to a neighborhood. It's not in a business area. It's not in a park. It's not around other hotels," said area resident Tiffany Foster.
"I'm not sure where Crystal Lagoons come into play for a neighborhood community," said Derby's Gretchen Temple. "The location is terrible, absolutely terrible."
Derby resident Karen Myers also brought up the State Legislature's recent audit of STAR bond attractions – which found that only three of 16 attractions reviewed met the program's tourism-related goals over the past three years. Derby's Field Station: Dinosaurs was not among the three.
Given those numbers and other questions regarding accessibility (i.e., price point of attractions), Myers and other residents questioned if the latest proposed STAR bond project was the right fit for Derby.
"I'd love to see the feasibility study that says this is going to to work in Kansas and Derby. They may be right on target saying that we'll get close to a quarter of a million people. I hope that we would, but the neighborhood doesn't look like there's enough to attract that many people," said Pat Baldridge. "I'd like to see it turned into something that's beneficial and it can be used, but I'm just not sure this is the answer."
Working together
Marc Abbott, counsel for Derby Destination Development, spoke to some of the concerns raised by residents regarding the proposed project. Chiefly, he noted developers see some of the same issues (like safety liability) from another perspective and are willing to work with Derby to meet the perceived needs.
"We want this to be a project that is welcomed in the community. We still believe in the family-friendly direction the city has as its goal," Abbott said. "I don't think there's a difference in what is desired, it's just how can we cooperate."
Abbott refuted comments regarding the legislative audit, calling the cell phone tracking used to collect tourism data an unreliable method. He said the Wichita Sports Forum had self-reported 600,000 annual visitors for one year tracked, but cell phone data showed only 300,000 visitors (which would not include younger children who do not have cell phones).
"Visitation and attracting out-of-state tourists is not the overriding and sole purpose of STAR bonds," Abbott said. "STAR bonds, as it expressly states, are to assist in development of eligible areas thereby promoting the general welfare of the citizens of the state."
Following legislative action last session which extended the STAR bond act, allowing issuance of bonds through 2026, Abbott pointed out that all future projects will be required to have a method of reporting tourism numbers to the Kansas Department of Commerce. While that will not grandfather in projects prior to 2021, staff noted they would work to make STAR bond reports and the master development agreement accessible through the city website.
Regarding concerns over potential failure of the attractions, both Abbott and Derby Destination Development's Rick Worner noted the involvement of ownership from Kansas City's Great Wolf Lodge – to operate the Crystal Lagoons and hotel – as a major benefit to the project and Derby. Worner even reported the Derby site would have twice the outdoor water components as Great Wolf Lodge.
Continuing discussion
Given the aquatic activities that will be featured (paddle boarding, scuba diving, etc.) and proposed aerial park with zip lines, there were questions about the fit of the project in Derby. Even with the glamping site, while ownership noted visitors come from all across the U.S. at its current sites, it was pointed out that Derby does not have ease of access to similar amenities offered – like hiking trails, horseback riding, etc.
With the concerns raised during the public hearing, council member John McIntosh questioned if developers had another plan for the expanded STAR bond area should the project in question fail.
"If you vote to expand the district, we sit down with the neighbors and the neighbors still hate it and the council turns it down, I don't have a plan B for what I would put on that land," Worner said, "but I have a plan B that I'll go do Crystal Lagoons somewhere else."
Tom Keil, who stated he was on board with previous STAR bond projects, noted he was struggling with this most recent one. In his eyes, some of the features (i.e., hotel, apartments, etc.) are natural progressions that would happen with or without STAR bonds.
Similarly, other council members were hesitant with the overall scope of the proposed project, but staff reiterated that voting to expand the STAR bond district would allow developers to flesh out the project and provide more specifics on the financials, operations (i.e., filtration, maintaining lagoon water levels, etc.) and more.
While concerns remain, the city council is allowing the discussion to continue on the latest STAR bond project – for now.
"I definitely appreciate hearing these concerns and want to make sure the community is on board," said council president Nick Engle. "I think there is a lot of due diligence left that we need to look at."
As part of the vote to expand the STAR bond district, a public hearing was set for Dec. 14 to discuss a third amendment to the STAR bond project plan.
*Note: The accountant for Derby Destination Development has confirmed that the PPP loan referred to during the public hearing was a fraudulent claim and that the organization has received no such funds. The parties are currently working with the Small Business Administration to resolve the issue.