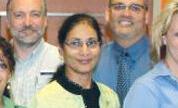 There have been a couple of changes at Derby's Hampton Inn: the former operator of the business is no longer associated with it and the hotel – after a property tax abatement – is now back on the tax rolls.
The Hampton Inn had been operated since 2012 by Johnnie Parmar, who along with his wife, P.J., have been in the hotel business in Arkansas City and Pratt. The Parmars were not available for comment; however, the current general manager on duty, who declined to provide her name, confirmed that Parmar was no longer with the entity.
"The bank owns it now," she said.
She declined to name the bank. In previous dealings, the hotel's bank had been RCB Bank, but it had assigned its duties under terms of Industrial Revenue Bond financing used by the hotel to Security Bank of Kansas City. Bank officials were not available for comment.
No bankruptcy filing was found at federal court in Wichita for the property.
The manager said operations at the property at 1701 E. Cambridge St. near the intersection of Rock Road and Patriot Avenue, continue.
"We've got to keep going," she said of the property, which is appraised at $3.49 million and is the only Derby hotel.
The 63-room, 32,527-square-foot hotel operates under the business name of Derby Hotel Inc. and was built in 2008, just as a nationwide business downturn was getting underway.
Specials taxes continue until 2025
However, the business received a major break through a 10-year property tax abatement. Its general taxes were zero up until 2019, when they were $28,919, according to Sedgwick County tax records. They then increased to $126,631 in the 2020 tax year. The taxes in 2019 were paid and part of the 2020 taxes, or $66,260, has been paid. The balance is due in May.
Governing bodies receiving money from the property taxes include the city of Derby, USD 260 and the Derby Recreation Commission, along with the county and state.
The property is assessed a "specials tax" as is generally the case in new development in Kansas. That has varied from $5,717 in 2011 to $5,889 in 2020 and will continue until 2025, according to City Manager Kathy Sexton.
Those specials, including half of 2020's, are being paid.
Sexton said while an abatement such as Derby Hotel Inc.'s is considered at the same time as an IRB request, it is not automatic and is an open process.
"It is discussed and decided in public," she said.
As part of the IRB, the sales tax on construction of the building was exempted, which is standard with an IRB, Sexton said. At times, it's the only tax break approved with an IRB.
The bonds were issued Nov. 4, 2008, and in 2018 were extended to Dec. 19, 2019. At that time, the city's involvement with the operation ended. Under terms of an IRB, the city, while holding title, carries no liability and any default or bankruptcy does not affect the city's credit rating.
Economy has an effect on second hotel
Sexton said the hotel has been remitting sales and transient guest taxes since opening.
Derby officials have worked for a long time to attract a major brand hotel. A hurdle, Sexton said, was "hearing repeatedly from various developers that they did not want to be the first hotel in the community due to the uncertainty involved with a lack of experience of hotels in Derby."
In addition, the hotel would require a financial incentive from the city, she said. Overall, the city doesn't issue many IRBs or other tax incentives.
That, Sexton said, is due in large part to the nature of commercial development here, which has been mostly retail and service businesses. They generally don't qualify for them, and in any case, usually have not been needed.
In Derby, IRBs and abatements have been aimed at speculative buildings and manufacturing. Officials also want to help the older parts of the city.
"In recent years and currently, Derby's priority has been supporting local businesses to encourage their growth and incentivizing redevelopment of the West End, Buckner Business District, and K-15 corridor," she said.
While growth is welcomed, don't expect another Derby hotel any time soon.
A second hotel is still part of the developer agreement for the STAR bond district, which includes the area around the dinosaur park, but that time frame has been extended.
"Given the current COVID/economic situation, I wouldn't expect to see progress on that for a while," Sexton said.
Employment, business down nationwide
While the Derby manager gave no reason for the operational change, it's no secret that the hotel industry has been hit hard by COVID-19.
Last year was the worst year ever reported for the industry in modern times, as occupancy dropped 33 percent from 2019 down to 44 percent and there were more than 1 billion unsold room nights, an all-time downturn record.
According to the U.S. Bureau of Labor Statistics, even while recovering in 2021, the hotel business will remain almost 500,000 jobs below 2.3 million employees, its pre-pandemic level. Furthermore, an industry group, the American Hotel and Lodging Association, stated that it will take until 2023 to get back to employment levels of 2019, before the virus decimated the hospitality business.
The group also reported that less than a majority of U.S. residents, or 34 percent, say they currently are at ease with staying in a hotel; however, they also state that as vaccinations become more widespread, they are more likely to be open to staying in a hotel again. Hotels are lobbying the current administration to speed up vaccinations, some even offering their properties as inoculation sites.
In some ways, Derby is better off than other cities, as its hotel will stay open.
In New York City, almost 3,000 hotel rooms are predicted to simply be shut for good as numerous hotels will not reopen again.
Hampton Inns are a brand of hotels trademarked by Hilton Worldwide Holdings Inc. (NYSE: HLT). Its category is termed as "moderately priced, upper midscale hotel" with limited beverage and food service.
While a few are managed by Hilton, most are independent and are operated by franchisees. It is one of the largest hotel franchises in the United States.