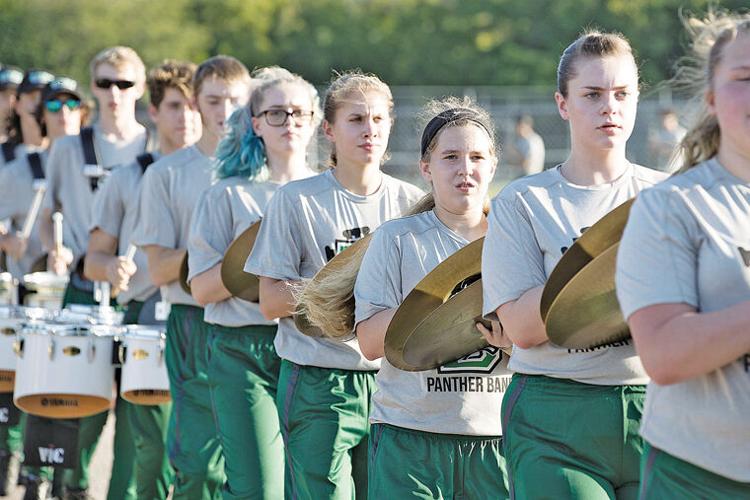 Typically, two weeks before school starts the Derby High School marching band will have a minicamp to prepare for the upcoming season. This year has been anything but typical, though.
Derby Director of Bands Adam DeVault said he is trying to put something together for his students this week, but the 2020 marching band schedule – like so many other things – has fallen victim to COVID-19.
"We just didn't feel comfortable until we knew exactly how we were going to start and how we could make this thing work safely," DeVault said.
Even prior to the minicamp before school, DeVault said he tries to hold a couple of preliminary rehearsals in the spring. Given the school shutdown, that turned into one rehearsal in June – after which DeVault and his students found out that all marching festivals for the fall were cancelled throughout the state.
Now, DeVault and his students are hopeful that they will get the opportunity to play during DHS football games this fall. Livestreaming of halftime shows is also being discussed given crowd size limits.
One thing that is for sure is that the marching band will continue to rehearse outside at zero hour (7 to 7:45 a.m.) Tuesday through Friday before the start of school, but how the band rehearses will look quite different.
Band members will be required to wear masks at all times (with special flaps to allow them to play their instruments) and have bell covers to help mitigate the spread of aerosol particles. Drill is being changed – with more spacing and fewer formations – to promote social distancing on the marching field, and the associated Varsity Band class will have to meet in sections to practice music, given its size.
"There's actually quite a few things that we're doing differently or we're trying to do to mitigate risk," DeVault said. "Luckily, I kind of feel like we're on the back side of planning it. Planning it was the hard part. Doing it, once we get going, it's just going to be a new routine, but it will become routine."
While COVID-19 has put the marching band "behind the eight ball" this season, as DeVault put it, he thinks getting back on the practice field will bring some sense of comfort and normalcy back to band members lives (as it does for him) and help them adapt.
"I know that for a lot of our students, it's kind of that way as well," DeVault said. "So we just feel like if we can get them back in that space where they feel comfortable – even if it's not exactly what we usually do – if we can create an outlet for a student to learn and perform music, it will hopefully help them to be successful in everything else that they're being asked to do in these uncertain times."
Orchestra
For DHS Orchestra Director Wesley DeSpain and his students, size limitations mean those classes will have to rehearse in smaller groups like the band.
Given the orchestra's instrumentation, though, those groups won't face near the hurdles of the marching band this fall.
"We don't have quite as many challenges as the band because we're just breathing normally in class, so we can rehearse for the entire time we have class," DeSpain said.
Orchestra members will still have to wear masks, while their performance and competition schedules are also very much in flux. Most fall events have been cancelled, according to DeSpain, while spring festivals are on hold. Currently, DeSpain is working on a broadcast plan for fall concerts.
Participation in honor bands will also be a little different this fall, as Kansas Music Educators Association district honor band concerts have already been cancelled – but students will still be able to audition for a chance to be considered for state honor band (with the verdict still out on that performance in the spring).
Music gives students a voice, DeSpain said, and for that reason he is glad to be pushing forward with classes this fall. Experiences in orchestra will only change slightly due to COVID-19, but he said the class remains a creative outlet for students – simply providing new ways to learn this year.
"Every challenge is an opportunity to grow," DeSpain said. "If you look at it that way, these students will have opportunities to grow that students before them haven't had because of this new challenge."
Drama
Performing with a mask – or virtually – could be a little difficult in the eyes of DHS Theatre Director Richard Shultz, but he's trying to work around that.
Shultz admitted he doesn't think it's likely classes will remain in person at the high school all the way through the semester, so he is adapting. Difficult as it may be, Shultz said he is trying to work with FlipGrid to help students record performances from home to keep up that element at least.
"The biggest part of it is simply going to be my acting classes are all collaboration," Shultz said. "It's just pretty much nonstop collaboration, at least a chunk of every class period. If we go online, that's going to have to change."
For the period of time that classes are in person, Shultz also noted the changes being made by the band to help limit spread of COVID-19 will require a more formalized room-sharing schedule.
Being the Theatre Technology teacher, Shultz also expects to be the guinea pig for setting up livestreaming for a number of arts performances at the high school – with the fall play usually one of the first.
Already, Shultz has made some performance changes in light of COVID-19 – pivoting away from a second semester musical. Instead, in order to limit costs, the drama department will be performing two royalty free shows this year – "The Importance of Being Earnest" and "Charley's Aunt."
While many of the performing arts departments are in wait-and-seemode when it comes to live performances, Shultz is like the rest in appreciating the opportunity to still hold classes – particularly with performing arts one of the few subjects of study that activates the right side of the brain.
Shultz has met with his students over the summer months and noted that, even under a different set of rules, they are looking forward to getting the opportunity to create something new.
"They're a little bit worried about what we're going to be able to do this year, but at the same time there's a lot of excitement that this is a challenge," Shultz said. "This is going to be a challenge of how can we make this all work and I think they're ready for it."
Music
Like the other groups, vocal music students at Derby High School will be wearing masks and social distancing through the fall, while those classes will be another to rotate through the DHS auditorium (creating more need for scheduling due to aerosols released).
Concerts and festivals are also on hold for the choirs, though Vocal Music Teacher Tyler Morris is hopeful his groups will be able to perform for a live audience during their concerts – though they will adapt virtually if necessary.
Morris said his expectations for his students remain high even among the changes due to COVID-19. Following the truncated spring season, DHS vocal students and staff got a crash course in online choir. Now, Morris is looking to lead by example and get his students excited about learning music again – no matter the platform.
"I think that kids need music now more than ever," Morris said. "There are a lot of negative things that students are being exposed to right now. Music is a healing factor for a great deal of fine arts students in the district. I can't wait to start making music with the choir students very soon."