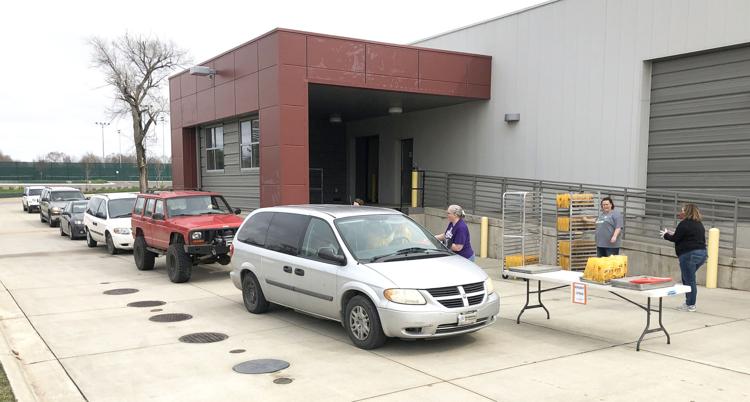 The following statement was released by Derby Public Schools at 10:30 a.m. on Tuesday, March 24.
Derby Public Schools will be providing updates and resources for our families and staff during the Coronavirus (COVID-19) pandemic. Please know the following information is what we know at this time (10:30AM, March 24) and is subject to change. 
Student Device Pick-Up and Essential Item Pick-Up: Secondary students have 1:1 personal devices already issued to them. Elementary students will be able to pick-up school devices (iPads for K-1, Chromebooks for 2-5) if they do not have a device already at home they wish to utilize. A pick-up schedule this week is available HERE for elementary families to allow all students time to safely pick up student devices, essential items like medication or chargers/instruments if they were left at school. If you are a secondary school family, click HERE to request a time for essential items pick up from a middle school and HERE for the high school. Please do not bring your entire family to pick up essential items. There will be a time at a later date in the school year for a complete pick-up of student items that are not essential (this includes pencil boxes, etc). Please adhere to Kansas State Department of Health and Environment (KDHE) travel guidelines. Check the list HERE. If you have traveled to one of these places or in self-quarantine, do not visit the building during these times. Please contact your building principal if you can not pick up during your designated time by school phone or email. (view phone/emails HERE)

Continuous Learning Plans: Derby Public Schools staff are working this week to develop Continuous Learning plans for all students. Staff development and planning is taking place this week with a goal to begin delivering a continuous learning model to students starting March 30, 2020. We will hold Zoom informational meetings for families at the designated times below. 

Zoom Meeting for Questions: We are aware there are many unanswered questions at this time. We will continue to provide updates as information is available. Online Zoom meetings are scheduled for Thursday, March 26 for families to receive further information and ask questions directly to district leadership. The links to these meetings are on the website.

10:30-11:30 AM: Elementary 

1:00-2:00 PM: Middle School

2:30-3:30 PM: High School

4:00-5:00 PM: Middle School

5:30-6:30 PM: High School

7:00-8:00 PM: Elementary 
*We will record the Zoom times for parents to later view on our website. Please only pick one session to attend per age group. Limited #'s to first 1,000, per Zoom restrictions. 
We will continue to communicate with families via Skylert, our mass notification tool, and post on www.derbyschools.com. Please note our website has a translation feature. Click on "Select Language" and choose your preferred language from the dropdown.
Thank you for your support during this time!
Sincerely,
Heather Bohaty 
Superintendent of Schools
STORY AS OF 3/24, 9:31AM 
After meeting with nearly 1,000 faculty and staff through video conference calling, Derby superintendent Heather Bohaty confirmed its Monday, March 30 start date for continuous learning. 
It's a part of a massive overhaul for Kansas education, responding to the K-12 building closure by Governor Laura Kelly. USD 260 teachers began preparation for this teaching at the end of Spring Break before starting meetings on March 23 that will run through the end of the week.
"Staff has worked extremely hard to be at the point we're at today," Bohaty said at the March 23 board of education meeting. "… people have been willing to jump in so that we can move forward with a continuous learning plan for the district." 
A task force was formulated by the Kansas Department of Education, helping state school districts to form a plan that would provide a guide for all K-12 schools. Swaney Elementary teacher Azure Henwood and Derby North Middle School teacher Dr. Brent Wolf were each a part of that group. 
Bohaty said the district now has that plan in hand, but has now constructed a team of nearly 100  faculty and staff members to review it and prepare it for USD 260 students specifically. 
These classes will be done digitally; however, the Derby superintendent also clarified that paper packets will be available for families who choose not to do online learning. 
"The plan for staff and student pickup of items adheres to [Kansas Department of Health and Environment] guidelines," Bohaty added. 
Specific assignments, class details and coordination with teachers will be discussed in a series of ZOOM conference calls with district faculty and staff. These sessions will take place on Thursday, March 26 and they will have multiple times available for elementary, middle and high schools. 
Bohaty also confirmed that all student and staff training professional development has been cancelled. 
"Our finance office is working on getting any of those funds back from any of those cancellations," she added.
The Derby superintendent requested the board of education consider action on the following items: requiring only 21 (instead of 25) credit hours for seniors in the 2019-2020 school year, paying all staff through the end of the year, and also development of delivery of the continuous education plan. 
District unveils free meal service on March 23
The school district reported that it gave 763 pre-packaged meals to families this past Monday. 
Bohaty said the meals were prepared by district staff at the Derby Public Schools Central Kitchen. They were then given to families at the site as well as Oaklawn Elementary in Wichita. 
Depending on numbers in the incoming days, Bohaty said the possibility of a third location exists. At the district board meeting, she said they'd like to explore a location near Wineteer Elementary School.
"I'm so glad this opportunity is available for our community," Bohaty said. "Obviously, there was a need as you can see by the numbers."