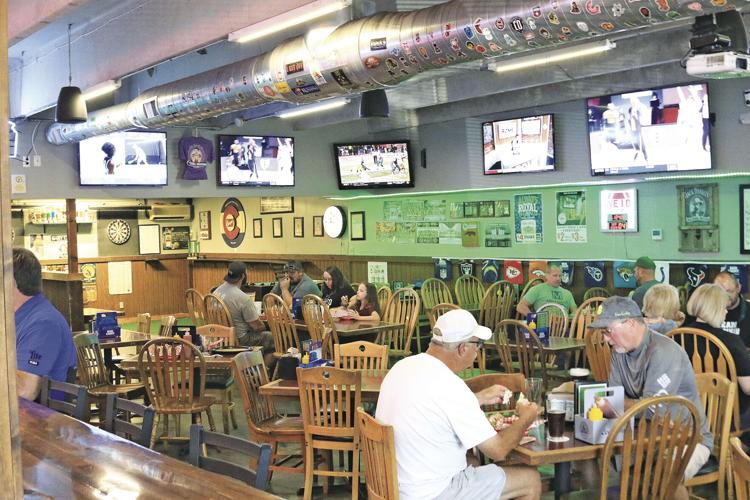 March Madness took on a different meaning this year for local bars – as the onset of the coronavirus pandemic across the country took away a number of revenue opportunities.
"That's my biggest month of the year. For a sports bar in Kansas, not having basketball was a huge hit," said Little Busters Sports Bar and Grill owner Kyle Smith.
Six months later and bars are still feeling the effects of COVID-19, as one of the businesses most directly impacted by the emergency public health orders put in place by the Sedgwick County Commission.
During the initial stay-at-home orders in March and April, curbside and carryout business was allowed while dining in was put on hold. Smith said he used up his inventory during that time and officially shut down for a span of 16 days – which allowed him to make some improvements (i.e., install a new computer system) at Little Busters and stay on top of sanitation for the establishment's eventual reopening.
After the phased reopening in May and the return of the dine-in experience, bars specifically were once again hit hard as Sedgwick County passed an emergency public health order that shut down those establishments for about a month. That order was recently amended to allow bars to operate at 50 percent capacity, but also came with an 11 p.m. curfew on business hours.
Being a bar and restaurant, Smith noted Little Busters was able to continue operations through the passage of that public health order – though the new curfew has taken away some of his business.
"From 11 (p.m.) to 2 (a.m.), those are pretty big hours for me," Smith said. "We have a solid second shift crowd that comes in from Spirit and I basically haven't seen those guys in a month now."
While Smith has lost a small portion of his business, dedicated bars like The Shop in Derby felt the effects of the order even more. Owner Cliff Starbird said his bar has been closed for roughly four of the past six months and is not even at 25 percent of its normal business.
The Shop reopened to customers on Aug. 31, focused on complying with the newly amended order (i.e., social distancing, wearing masks, etc.), but Starbird admitted he is not sure what the remainder of this pandemic rollercoaster ride has in store.
"I never dreamt it'd last this long, for sure," Starbird said. "To be honest, I don't even know if I'm going to stay open. I don't have a clue right now."
Like Little Busters, Starbird noted he is missing that business from 11 p.m. to 2 a.m., while the irregular hours and shutdowns have also pushed his clientele to seek out other drinking establishments.
Despite all the changes (wiping down menus, rotating condiments between each use, etc.), Smith said he and his staff have tried to keep the experience at Little Busters as normal as possible for his clientele.
Community members helped keep Little Busters going when it was relegated to curbside and carryout service only, and Smith noted getting an Economic Injury Disaster Loan also helped the bar and restaurant push through that (while allowing for upgrades as well).
Smith admitted he didn't expect the pandemic to last this long. Even though he is ready for it to be over, for Little Busters at least things are starting to look a little more normal.
"Right now, with us being on the restaurant side and us not getting shut down again like some of the bars did, we're actually doing OK. Even with our capacity being at half and all that kind of stuff, we've stayed pretty steadily busy around here," Smith said. "As long as I can stay open and keep serving, then I should be OK."