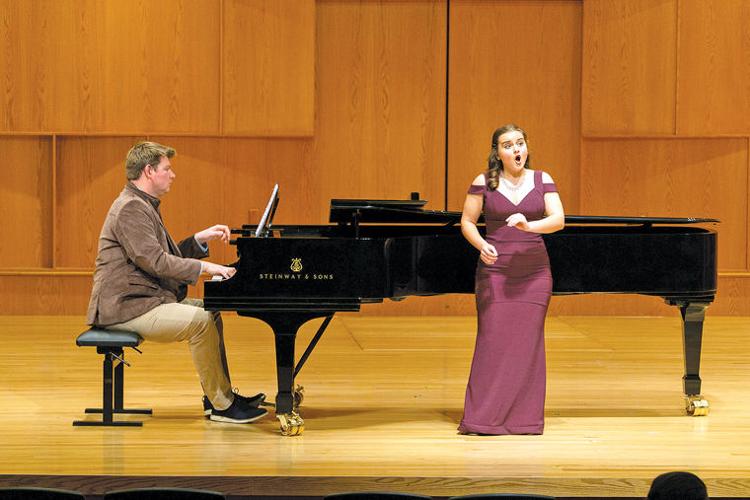 While the current pandemic cancelled multiple Kansas State High School Activities Association events this spring, like regional solo/small ensemble music festivals, Derby's Caitlin Chisham has not been lacking in competitive outlets.
Chisham, a junior at Derby High School and member of the philharmonic choir, has been flexing her vocal muscles in competition since she was in middle school – starting with the New York Lyric Opera Junior
Division competition when she was 13.
Most recently, Chisham participated in the Hal Leonard Vocal Art Song competition (which is conducted fully online), being named the first place award winner in the high school division. Winners of the national competition were announced at the end of April.
"I'm speechless almost because to see myself (recognized) at a national level, it shows how hard I've been working, how many hours I've been working a week," Chisham said.
Both of Chisham's parents, Dan and Kristin, are music teachers – which played into Caitlin's natural inclination toward music. After performing "If I Die Young" by The Band Perry as a trio in a second grade talent show, her parents recognized her talent and private lessons started shortly thereafter.
After taking lessons from her mother initially, Chisham began getting instruction from a number of vocal professors. She is currently taught by Dr. Cristina Castaldi, Assistant Professor of Voice at Wichita State University.
Following her first foray into vocal performance, Chisham quickly honed her passion – for opera music in particular – at a young age.
"Specifically, with my goal to be an opera singer and being an aspiring opera singer right now, I remember watching "La Boheme." I watched that when I was probably 10 years old and I watched the whole thing, which is not normal for 10-year-olds to watch a three-hour opera," Chisham said. "I remember watching that and at the time, when I was starting voice lessons, I was like 'okay, this may be something that I want to do' because as a 10- to 12-year-old you're not for sure for your profession. As I was studying, I realized this could be something I could do. Through competing in competitions and doing recitals early, I just had a love for music that was different than my peers. I'm in love with opera basically."
Like the New York Lyric Opera competition (which she also won), Chisham has been taking part in the Hal Leonard competition since she was in middle school – getting her feet wet in online competition at that point.
Other competitions Chisham has been part of include Schmidt Vocal Arts and the National Association of Teachers of Singing (NATS) – the latter of which she has placed first at regionals twice – while she has taken second in The American Prize (another online competition).
To claim the first place honor in the Hal Leonard Vocal Art Song competition certainly stands out though, according to Castaldi.
"Any award is a big deal, but given that there were roughly 1,200 video submissions of competition (from U.S. and Canada), to receive first place is amazing," Castaldi said.
Chisham submitted her video for the Hal Leonard competition in January after intensive work with Cristaldi and on her own – focusing a lot on diction for her foreign language piece. She performed "Come and Trip It" by Handel and "Nacht und Träume" by Schubert for her submission – with her dad assisting with the recording/uploading.
Being inspired by the likes of current opera singers like native Kansan Joyce DiDonato – who Chisham had the chance to see and meet while in middle school – the Derby junior ultimately wants to be up on the Metropolitan Opera stage. That is her dream.
For now though, Chisham is preparing for the next stage of her career – college. Looking to get into conservatories on the East Coast, she is starting to prepare for auditions that will begin in the fall. Given her previous accolades and having the Hal Leonard award under her belt, those experiences could help Chisham closer to her ultimate goal.
"Just seeing that I'm at the national level when it comes to Hal Leonard, I feel like I have a jumpstart going into college. I feel like my background will put me in a really good school and that is only going to propel me even further in my career and possibly even do amazing things in college," Chisham said. "I just feel like I'm at a really good level right now and I'm only going to get better."
"She's already well on her way with the competition winning(s) and accolades she has received up to this point," Castaldi said of Chisham. "The winning of the Hal Leonard competition will further help her when she auditions for prestigious music programs. The competition is fierce at those institutions for scholarships, but I believe she has what it takes to realize her dreams. I think she has a very bright future."