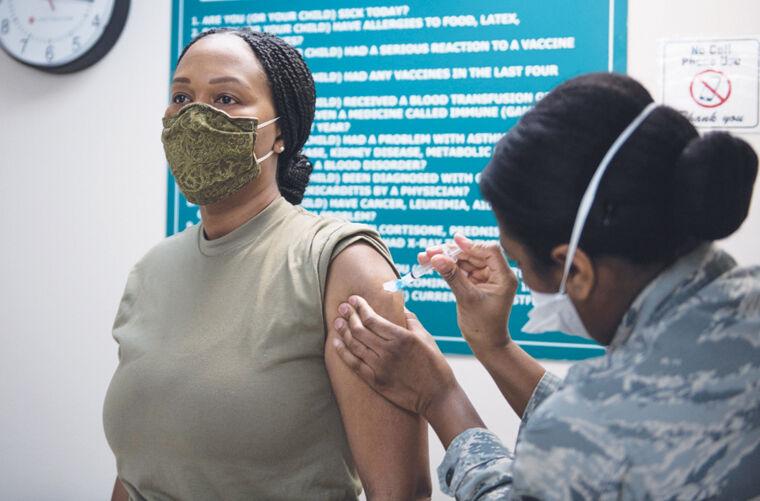 As the state of Kansas enters phase two of its COVID vaccination plan, doses continue to be administered in Derby and the surrounding area in line with the prioritizations laid out by Gov. Laura Kelly.
Currently, health care workers and residents/staff of long-term care facilities remain at the top of the list, while phase two includes high-risk individuals over the age of 65 and other critical frontline workers (including first responders, teachers, etc.).
In Derby, health care workers have been the primary recipients of the vaccine so far, though on a varying schedule. Members of staff at Rock Regional Hospital and the Via Christi clinic in Derby have both already received their second doses of the vaccine, while Tanglewood Family Medical Center and Derby Family MedCenter noted their second doses are expected in February.
Vaccine at work
Via Christi Advance Practice Registered Nurse Anthony Shaver is one of those Derby health care workers who has received both doses. In fact, he received his second dose early on (Jan. 6) as he handles the COVID testing in Derby, while working in both immediate care and the emergency department. Safety of others was a driver for Shaver to get the vaccine, he admitted. Also, having COVID-19 previously, he thought he could be a good information source.
"Knowing that my immune system was already ramped up … if I had any side effects or symptoms of the vaccine I'm a pretty good person to let people know, 'hey, look, I'm starting to have these side effects associated with the vaccine,'" Shaver said.
Rock Regional Hospital Director of Acute Care Services Anna Pilgrim has also received both doses of the vaccine and even helped administer doses to fellow hospital personnel.
Like Shaver, Pilgrim treats those who have tested positive for COVID-19 at the hospital and wanting to keep that away from her family was a big driver in getting vaccinated.
"I take care of these type of patients here and there's always that chance, even wearing PPE, that I could take something home to them," Pilgrim said. "I'd say that was probably my most important reason."
Pilgrim and Shaver's experiences with the vaccine illustrate the uniqueness of it, as it has been shown to affect people's bodies differently.
For Shaver – who received the Pfizer vaccine – he noted symptoms were mild after the first dose (experiencing body aches and arm soreness comparable to a flu shot). It was the second dose that had more of an impact – bringing on a weeklong headache, fatigue similar to COVID for a day or two, low-grade temperature (for one day) and body aches.
Similarly, Pilgrim noted mild symptoms after her first dose of the Pfizer vaccine (minor headache, a little nausea) but a more intense reaction to the second dose. She noted she experienced more flu-like symptoms after the second dose for a couple of days – with others reporting symptoms lasting eight days. Which vaccination is received will play into the symptoms experienced as well.
Because of how the COVID-19 vaccine works (using RNA from the COVID virus, but not the actual virus itself), Pilgrim also said it is important to continue following recommended safety guidelines even after receiving it.
"If COVID was to enter your body, your body recognizes it as a foreign entity – it's not supposed to be there – and it immediately attacks it. It doesn't create any antibodies, though, it pretty much just tells your body what to do. Whereas some of the other vaccines create antibodies for your body, this one does not do that. At least the Pfizer and Moderna do not do that, so you are capable of having the COVID virus in your body and be fighting it off at the same time," Pilgrim said. "That's why it's still important to wear a mask for right now, even if you get the vaccine."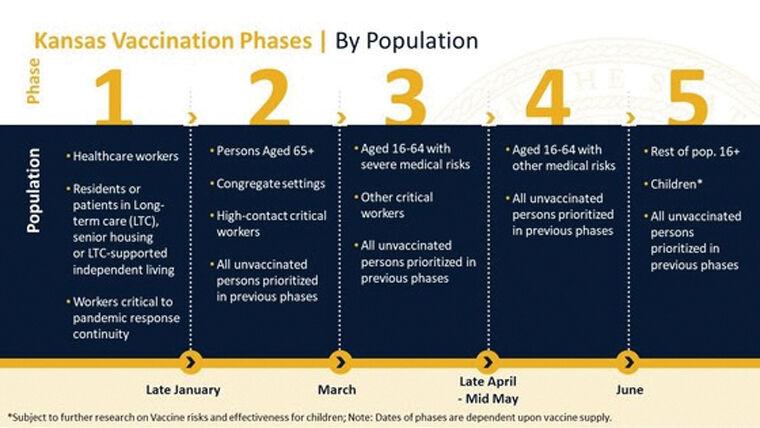 Next stages
Other phase one targets (like local long-term care facility Brookdale Derby) have recently gotten their second doses as the state and counties expand vaccination opportunities to individuals prioritized in phase two.
Gov. Kelly noted specific prioritizations of individuals will be handled at the local level, with Sedgwick County announcing it will start with individuals 83 and older (due to higher risk of COVID-19 complications) who do not live in long-term care facilities. A limited number of doses also played into the decision.
Vaccines have also been made available at McConnell Air Force Base as of last week, with a release noting the immunizations are voluntary for Airmen at this time.
Sedgwick County remains the point of contact on vaccination information, though Pilgrim did note Rock Regional Hospital requested to be a distribution center. As the vaccination plan progresses, more information will be available at https://www.sedgwickcounty.org/covid-19/vaccine-information/.
Availability of the vaccine has brought some peace of mind to those in the health care field, according to Shaver and Pilgrim. While new cases and new strains of the virus are seen across the U.S., they are hopeful that relief will eventually come to the general public as well and restrictions can start to be rolled back.
"I understand not everybody is capable, but if your doctor recommends it and allows you to get vaccinated it will help decrease the spread and then also hopefully help eliminate this in the future just like smallpox was eliminated," Pilgrim said. "I really hope that especially the vulnerable population and the elderly can start getting it because they are definitely the higher risk population to have more complications."