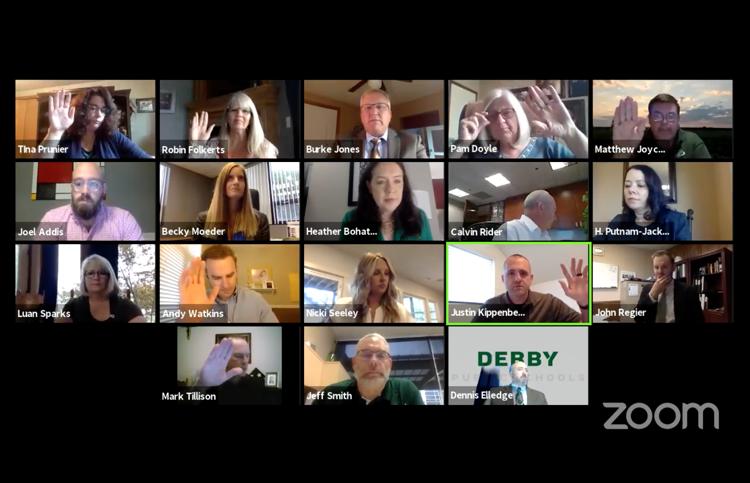 The start of the school year in Derby will be delayed until after Labor Day, the Derby Board of Education decided Monday. The school year will now start September 8, which mirrors USD 259 and other state school districts. The last day of school will be May 26. The decision comes less than a week after the State Board of Education declined to delay the start of the school year.
The district's calendar committee proposed three start dates for school: after Labor Day, on the normal start date, or on August 26. The option to delay until after Labor Day was the favored start date for both staff and parents who responded to a district survey.
Board member Matthew Joyce, who was on the calendar committee, said that the committee was thorough and addressed every question and concern they could think of.
"We had teachers in there, we had parents in there," Joyce said. "This was the best situation possible that could come out of that."
The only concern board members had was a loss of 4.5 days for classified support staff.
"I would like to ensure we find those 4.5 days so they don't lose any pay," Board President Justin Kippenberger said. 
The board amended the motion to ensure that classified support staff would be paid for those days.
In addition to delaying the start of the school year, the Derby Board of Education passed its safety plan without any modifications or amendments. The plan passed 4-3 after more than three hours of discussion.
The Derby Board of Education last week approved two learning models – in-person and remote, with a hybrid option available if necessary – that families could choose between during enrollment. The board decided to delay finalizing a safety and security logistics plan and a school year start date, citing a need for more time before making any final decisions.
The board went back and forth for nearly three hours before voting on the proposed safety plan. Board members Tina Prunier, Robin Folkerts, Pam Doyle, and Matthew Joyce voted for the safety plan. Members Justin Kippenberger, Andy Watkins, and Mark Tillison voted no. 
The plan includes high – which are mandated requirements – moderate, and low level options based on current local and state guidance for various safety measures. Based on current county guidelines, the district would currently be in the highest level in each area, Superintendent Heather Bohaty said, but that is subject to change at any time.
Transportation: high level – temperature checks, load back to front and release front to back, mask required. Middle level – load back to front and release front to back, mask required. Low level – load back to front and release front to back, mask encouraged.
Visitors: high level – no visitors allowed, parents need an appointment and will answer screening questions before entering a building. Middle level – visitors allowed with administrator approval and will be asked screening questions. Low level – visitors are allowed and will be asked screening questions.
Hand washing and sanitizing: high level – students and staff shall sanitize hands throughout the day no less than once every hour. Moderate level – students and staff shall sanitize hands consistently at designated times throughout the day. Low level – students and staff shall sanitize periodically throughout the day.
Temperature checks: high level – individuals entering all attendance centers shall have temperatures checked before entering the building their first time each day. Moderate level – staff and students may be required to have temperature checks if exhibiting symptoms at school or known exposure. All visitors will be screened. Low level – staff and students are encouraged to check their temperature. Contactless thermometers will be used.
Masks: high level – all students, staff and visitors must wear a mask or face covering. Moderate level – all students, staff and visitors must wear a mask during transitions. Low level – students, staff and visitors are encouraged to wear masks. 
Drop off and pickup: High structure, no gathering outside of school buildings, abide by social distancing standards. 
Lunch: Will comply with health department and USDA guidance. Exact plans for lunch are still undecided. 
Events: Events will follow guidance of the local health department and governing organizations. The district plans to have no events during the first nine weeks.
Hallways: Coordinated/planned transitions, use of alternative routes, and social distancing.
Some board members were skeptical about some of the safety requirements, which led to lengthy back and forth between board members, medical experts, and other district leadership. 
"Is it realistic to wash hands every hour?" board Vice President Andy Watkins asked an hour into the meeting. "With 20 kids, that's almost seven minutes of hand washing an hour. Is it realistic to expect that?"
Board President Justin Kippenberger also raised concerns that the safety plan was missing some specific details. In response, Assistant Superintendent of Human Resources Becky Moeder said staff will work with leadership to iron out the details.
"We have this guidance here in this document that shows an outline of what we're doing with our local health officials and different organizations, and then we can work out those details when we put our minds together," Moeder said. "Like you, Mr. Kippenberger, I want to know now too, it's going to give me a lot of peace, but I know we're also excited to get our teachers back to collaborate with leadership."
Board members had numerous questions about each safety requirement, but the bulk of time was spent on temperature checks and masks. After discussion about masks continued for over 30 minutes, board member Tina Prunier said it was time to make a decision based on the current information.
"I realize we want more information, but we don't have a crystal ball to know what will happen in another month," Prunier said. "We have to go ahead and accept something and move forward to give people an opportunity to start planning." 
Board members continued to dispute a mask policy and whether the district could forge its own guidelines outside of the governor's order, which eventually led Dr. Lorraine Alvarado, who was also on the Zoom meeting to give medical expert guidance, to give her take.
"I believe masks will be a necessary evil until there's a vaccine," Alvarado said. "We don't let people into our office without a mask. Modeling this behavior is what creates compliance. [And] I think we are all going to be doing it for the foreseeable future until there is a vaccine."
"To not make it mandatory, especially at the middle school and high school level, would be egregious."
Both the in-person and remote learning models will require daily attendance. Lunch for in-person students will be available on-site. For remote learners, lunches will be available through lunch lines at meal sites. Grading remains consistent across both learning models, but remote learners will also receive a participation grade.
Once the school year begins, families and students will be locked into their chosen learning model for the first nine weeks. Toward the end of the nine weeks, the district will seek feedback from families about how their chosen learning model is going and will give them the option to change models.
Despite the COVID-19 pandemic, the district will still have to provide students with 1,116 instructional contact hours, the requirement during a normal year.
The district's entire Return to Learn plan, which details every aspect of the school year, can be browsed in full at derbyschools.com.