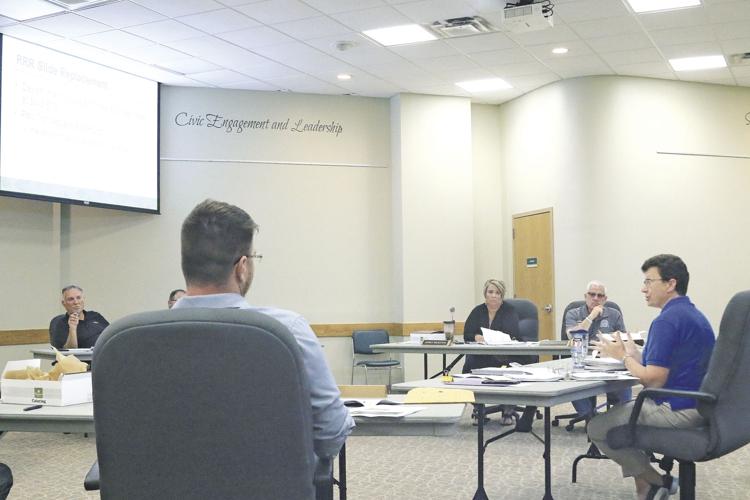 Looking at the bigger budgetary picture, the Derby City Council got a glimpse at what the next five years hold at a special budget workshop on June 9.
Derby Director of Finance Jean Epperson pointed out that projections currently show the city's general fund budget in the red (with expenditures exceeding revenues) starting in 2023. Even as early as 2022 the city may start to deal with some issues.
"2022, while it's black, doesn't technically meet our fund balance policy," Epperson said.
Per city policy, the budget carryover from previous years is intended to be 15 percent of the previous year's expenses. In 2022, the current projected ending cash balance of $3,475,048 is 13.53 percent of that year's projected expenses.
In 2019, revenues were $900,000 higher than anticipated – in large part thanks to interest earned. Given what has occurred so far, Epperson said not to expect similar results in 2020. Delays and savings from other projects also led to the revised 2020 beginning balance being $3 million higher than forecast.
Council member Tom Keil questioned if there was any federal legislation to help cities deal with COVID-19 related losses, but Epperson said not to expect budgetary assistance. Any such funding is being funneled toward direct COVID-19 measures (like buying plexiglass shields for department buildings).
Future expenditures continue to rise due to additional supplemental requests from city departments for 2021 and beyond. If revenue estimates don't hold, that budget may need to be cut.
Mayor Randy White questioned if property taxes are expected to increase six percent again in 2020. While Epperson was optimistic about a boost in assessed valuation, she noted a more conservative two percent increase was factored into the proposed 2021 budget.
While the city council is currently focused on the 2021 budget, with those future budgetary concerns raised Epperson did bring up the Derby Difference Sales Tax (a half cent sales tax) that is scheduled to sunset Dec. 31, 2024.
Epperson pointed out that half cent sales tax currently goes toward a special fund for Derby parks, Derby Fire and Rescue, and the Derby Public Library. Annually, through 2024, that sales tax is projected to bring in nearly $3 million in revenue each year.
"The bottom line is we are living on borrowed money. We are not paying our bills without our half cent sales tax," White said.
Should that half cent sales tax sunset and not be renewed or replaced, Epperson said it would require six to 12 additional mills to generate the same amount of revenue in the city's budget. Funding Derby Fire and Rescue, the library and moving forward with phase two of the Decarsky Park plan ($11 million) would take the full 12 mills.
As Epperson sees it, the council has three options moving forward – to hold a sales tax election in 2023, increase property taxes by 6 to 12 mills or decrease expenditures.
Decreasing expenditures was not seen as an ideal option in the eyes of White, as he noted that is an avenue the city would've needed to start years ago to make the necessary cuts.
Given the current amount of funding the half cent sales tax covers, there was a lot of support for continuing to pursue a sales tax of some kind in the future.
Noting retail trends in Derby over the past 15 years, City Manager Kathy Sexton highlighted the increasing viability of a sales tax to help fund the city budget.
"Sales tax is an excellent way to fund government in Derby, Kansas, and it is not in a lot of towns," Sexton said. "We have retail, we have restaurants and we have people coming into Derby to use them."
"If somebody else is coming in using our roads, using our facilities, I think they should help pay for it," council member Jenny Webster said.
Whereas a previous council set the limited nature of the initial half cent sales tax, White pointed out a majority of the sitting council members would make a decision on a new sales tax. Depending on what the council wants to do (whether maintaining current funding or building additional amenities), Sexton said that would shape the potential sales tax – though the council has time to decide what that will ultimately look like.