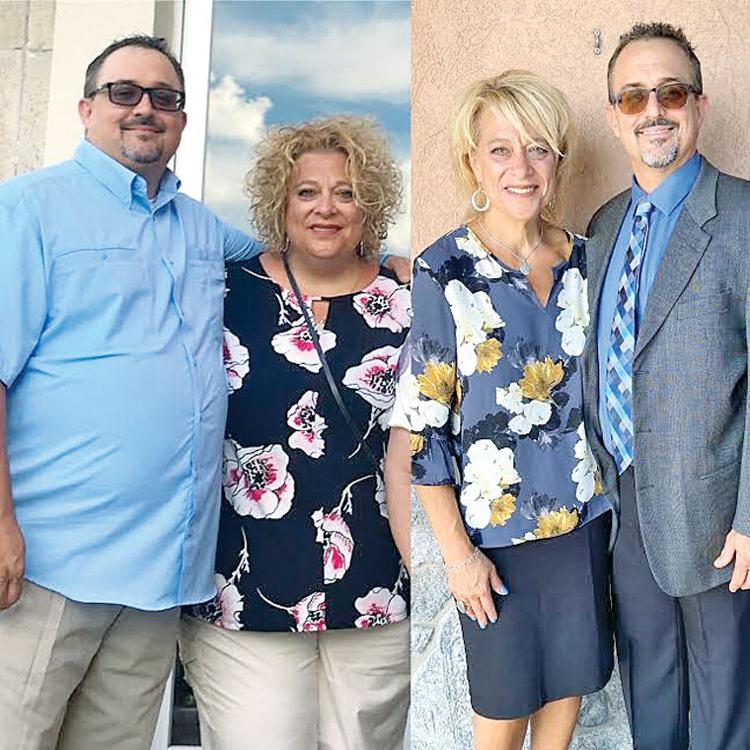 It was a trip to Cancun for Anita Harris' 50th birthday a few years ago that she realized something had to be done about her weight.
"You never see yourself that big," she said.
But she was – and closing in on 300 pounds.
The Derby resident hated the way she looked in photos, and just as bad, the way she felt.
"I've always been a plus size but never been that large," she said.
She didn't mean to gain all that weight, but it just sort of happened.
"You just start eating for entertainment," she said. "You gain five to 10 pounds each year and you get bigger and bigger. You're stressed or have a bad day then just turn to food. You eat more to feel better, but then you gain weight. It's just crazy."
Like her weight gain, weight loss for Harris was a slow – but steady – endeavor, starting in January of 2019. She dropped nearly 140 pounds to get to her current weight of about 160 pounds.
Weight loss turned into a family activity and husband Jeff, who was flirting with serious health issues, lost 97 pounds, dropping from a size 44 waist to 34. He followed her lead after she dropped 100 pounds – and gained a lot more energy.
"I can't get the guy to sit down," she said. "Before, we would sit and do nothing. Now it has shifted 180 degrees with the amount of energy he has."
Son Josh, 25, joined his parents and lost 55 pounds.
Harris said that most people "feel attractive" in some way, but when they don't want to be in photos or look in the mirror, those are clues something is wrong.
But it's so easy to overeat, she said, as in our society, there's a lot of emphasis on food.
"Food is everywhere," she said. "It's on TV and every time you turn a corner. Everything with the holidays is around food. It's hard to get away from it."
Looking at food in a different way
In addition, COVID-19 has taken its toll as more people are eating at home. While they can eat healthier, they tend to be more bored and eat more food overall, she said.
"They call the weight gain the 'COVID-15.'" she said.
She achieved success by making small, not large changes.
"It's a process," she said. "You need to do one thing at a time and get those micro habits. A lot of this is mental."
Those interested in losing weight need to look at food as "fuel" instead of something to do or an emotional outlet.
Or as her mom said: "eat to live, not live to eat."
It also helps to have a "weight-loss community," or support and help from others in the process, already there – or determined to get going on it.
"It's hard to lose weight when you're around other people who don't want to be healthy," she said.
Harris found a lot of success by chucking the standard three daily meals and going with a routine of eating frequently, but with smaller portions.
She points out that "we were born that way," and children usually eat something every two to three hours.
"We need the protein and nutrients," she said.
She also advocates cutting back on refined sugar and foods loaded with preservatives.
And many times people reaching for a candy bar should be moving toward a glass of water, she said, as 30 percent of the time when people think they're hungry, they're just thirsty.
At first, the journey was just focused on changing eating habits, but as the weight came off, Harris could shift to exercise, too – and found she enjoyed it.
Harris, who was born and raised here, said the city has great resources for exercising.
She did activities at Rock River Rapids and the DRC, including line dancing. She's also taking up the popular sport of pickleball.
"It's refreshing," she said of the new activities. "As you start losing weight, you want to do more healthy things."
Purpose is vital as a motivation
Other benefits, such as being able to cross her legs or not having to use a seat belt extender on a plane, may seem like small deals to a person with a normal weight, but they're not, she said.
"Losing weight impacts everything in your life."
If there's one thing she wants to emphasize, it's this: it will take time and purpose.
"A lot of people mistakenly do everything at once, but you can't do that," she said.
They also need a "why" for their quest, she said, as simple willpower won't last.
"Everyone has a different 'why' in life that will motivate them," she said.
That could be playing with the grandkids or being able to fit into smaller clothes.
Harris knows how addictive food, especially refined sugar, can be.
Sometimes it's, "just have one cookie," and then it's one more and then one more and pretty soon the bag is gone and the weight is on, she said.
But losing weight also has made food that Harris formerly liked, such as french fries, unattractive.
"It just doesn't smell good to me anymore," she said.
Now the focus is on the green and natural food.
"You cleanse your body and you don't have those cravings anymore," she said.
The weight loss has been so successful for her that she's now a health coach, helping others lose weight, too. Those who want to tap into her experience and knowledge are welcome to contact her on social media.
"I just want people to know that there are options out there and this is possible. This has literally changed my life," she said. "I'm just so passionate about it."
Harris said she believes most people struggle with their weight, especially after the holidays, but they don't need to – nor do they need to fear change.
"You get on auto pilot and may be afraid to change, but it can be done," she said. "You just need to change how you think about food and what you're doing."