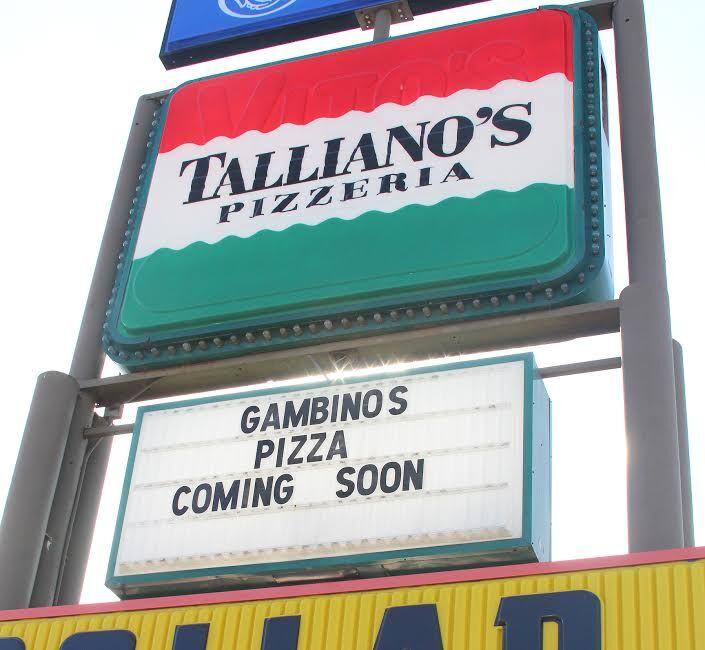 The writing was on the wall. Now, it's on a sign along Baltimore Avenue – Gambino's Pizza is coming to Derby, currently targeting a March 2 opening in the old Talliano's location.
Owning and operating three Gambino's stores (in Wichita, Winfield and Alva, Okla.) as part of the Midwest pizza chain, Rob Wagner admitted expansion into Derby has been on the franchise's radar for a while. When the opportunity presented itself, there was no hesitation on the decision to come to Derby.
"I've talked to corporate. They've talked about Derby several times about wanting to put a Gambino's here. We just think it's a good fit for the community," Wagner said. "For the last few years we've looked into something with Derby. I know other people have looked into it. Then, Janet [Talley] – the Talliano's owner – actually got ahold of me and said that she was looking to retire."
Following Talliano's closing, Wagner noted there is not much he needs to do to update the building in preparation for Gambino's to take over. He said some new tables and chairs will be installed, and the ceiling will be repainted, but the building's previous history gives Gambino's a head start on its opening.
Derby's location will mirror the business model in Winfield in regards to menu and business hours (11 a.m. to 9 p.m. Sunday through Thursday and 11 a.m. to 10 p.m. Friday and Saturday), but one item that will be influenced by the building's previous tenant is the buffet.
"Probably the only change that we'll make is we'll keep more buffet here. This location has been known for buffet," Wagner said. "Normally, Gambino's will do a lunch buffet from 11 a.m. to 1 p.m. or 11 to 2, but we're going to do an 11 to 2 and a 5 to 8 p.m. We're going to do buffet all day, we'll just have that break in the afternoon."
Having a close-knit community and one that prides itself on its sports teams is part of the reason Wagner thought Gambino's would be a good fit in Derby – as the restaurant model has been successful in similar communities. Coming in, Wagner said if Gambino's can mirror Talliano's numbers it would be "very satisfying."
Customers at the nearby Gambino's Wichita location have been asking for a store in Derby for some time. Now, that dream is becoming a reality, and Wagner predicts a win-win for all parties.
With an expansive menu that appeals to the whole family, and one that utilizes premium ingredients in its offerings, Wagner said Gambino's will offer something for everybody – even those previously unfamiliar with the chain.
"There's a lot of options. We have pizza, salad, wings, pasta. We've got calzones on the menu and desserts. There's a lot of different choices," Wagner said. "I think, really, the taste of the pizza is one of the better in the Midwest. I think just the quality of the food sets us apart."