This event has passed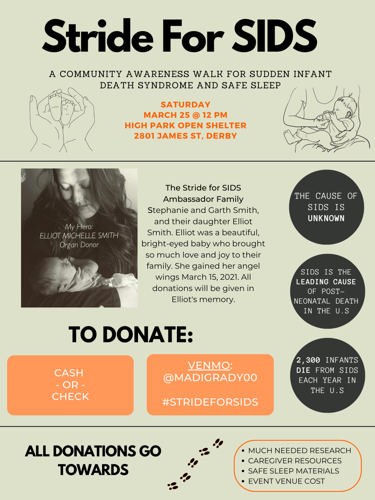 As part of her capstone project in the Biomedical Science pathway, Derby High School senior Madi Grady is organizing a community awareness event, Stride for SIDS. 
Stride for SIDS (Sudden Infant Death Syndrome), and Safe Sleep, will be a one-mile awareness walk. Grady's goal is to raise $500 for the Kansas Infant Death and SIDS Network in Wichita.
For those unable to attend, additional donations are being taken through Venmo (@MadiGrady00). Donations will go toward research, caregiver resources, Safe Sleep materials and venue cost.
Occurred Saturday, March 25th, 2023 @ 12:00 pm
High Park, 2801 E. James St.
2801 E. James
Derby, Kansas 67037
High Park, 2801 E. James St.
2801 E. James
Derby, Kansas 67037